Kiev's counteroffensive unlikely to achieve its goals – US officials to NYT
Ukrainian forces will need to pause in a few weeks to restock and recover after summer fighting, the paper reports, citing sources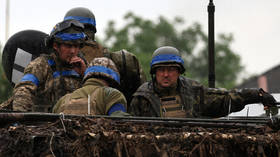 Officials in Washington have suggested that Ukraine's military forces won't be able to cut Russia's land bridge to Crimea as part of their counteroffensive or achieve other key goals, the New York Times has reported.
"Some American officials have said that the Ukrainian counteroffensive appears likely to fall short of its strategic goals," the paper reported in an article on Friday.
Kiev's forces are struggling to achieve the aim of reaching the Sea of Azov in Russia's Zaporozhye Region, because the minefields set up by Moscow's forces, they say, have proven to be "a potent defense," the Times added.
According to US officials, conducting offensive operations would also soon become even more difficult for Ukraine "as the ground becomes soft and muddy" in the region.
The NYT also said that some in Washington have warned that "within a few weeks, the Ukrainian army will need time to rebuild their stockpile of equipment and to rest forces exhausted by the summer fighting."
The Ukrainian counteroffensive was launched in early June, although Kiev has so far only reported the capture of a handful of small villages some distance away from the main Russian defense lines. President Vladimir Putin said earlier this month that Ukraine has lost more than 71,000 troops and over 540 tanks since the beginning of summer, while failing to achieve any significant results on the battlefield.
On Friday, President Vladimir Zelensky told journalists in Washington that Kiev "will do everything not to stop during difficult days in autumn with poor weather and in winter."
Zelensky claimed that Ukraine has a "very, very comprehensive plan" to "de-occupy" Artyomovsk (known as Bakhmut in Ukraine) and two other cities, which he refused to name, in the coming months.
Ukraine suffered huge losses trying to defend Artyomovsk and the strategic city in Donetsk People's Republic nonetheless fell under Russian control in May, after months of fighting.
The NYT pointed out that US intelligence and military had warned the Zelensky government against spending its manpower and resources in Artyomovsk, suggesting that it would be better focused on operations in Zaporozhye Region. "Some American officials say the fight in [Artyomovsk] has become something of an obsession for Mr Zelensky and his military leaders," the paper said.
You can share this story on social media: