Zelensky pledges to continue counteroffensive into winter
The Ukrainian military will not cease its campaign against Russia, the president has insisted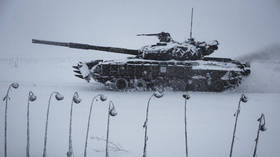 Ukraine is set to continue its counteroffensive against Russian forces through the autumn and into the winter, President Vladimir Zelensky declared on Thursday. He was speaking to US news outlets following meetings at the White House and on Capitol Hill.
The push against Russian defensive lines, which began in early June, will continue regardless of the weather, Zelensky insisted, claiming that Russian troops have been craving a "pause" in the fighting.
"We will do everything not to stop during difficult days in autumn with poor weather, and in winter," Zelensky stated.
The Ukrainian leader also vowed to "de-occupy two more cities," although he refused to identify potential targets and did not provide a timeframe.
"I will not tell you what cities, sorry. And so we have the plan. A very, very comprehensive plan," he claimed.
Zelensky further pledged to seize control of Artyomovsk (known as Bakhmut in Ukraine), which was captured by Russian forces earlier this year after months of intense fighting.
Kiev launched its long-heralded counteroffensive against Russian forces in early June. The most intense fighting has taken place in the formerly-Ukrainian Zaporozhye Region, which was incorporated into Russia last autumn after a referendum.
The counteroffensive has failed to yield any tangible results, and Ukrainian forces are reportedly struggling even to break through the forward defense line erected by Russia.
The intense fighting has resulted in heavy personnel and equipment losses for Kiev. Russian President Vladimir Putin recently provided an estimate of Ukrainian losses at more than 71,000 servicemen, nearly 550 tanks, and around 18,000 combat vehicles of other types.
You can share this story on social media: