Kiev suffering heavy armor losses on Zaporozhye front – WaPo
Russia's defense has knocked out multiple German Marder and US Stryker infantry fighting vehicles, a Ukrainian commander told the newspaper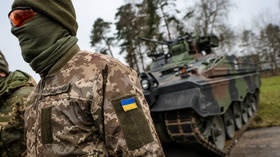 Kiev has lost a substantial number of Western-supplied armored vehicles in attempts to breach well-fortified Russian defenses in the southern section of the front, the Washington Post reported on Saturday, citing a military officer on the ground.
In an interview with the newspaper, an unnamed Ukrainian air-assault-unit commander claimed that Kiev had gained some ground in Zaporozhye Region near the settlements of Robotino and Verbovoye, scenes of fierce fighting in recent weeks, although he admitted that the advance was "modest."
He added that the progress came at a high cost in military vehicles, including German Marder and US Stryker infantry fighting vehicles. "A lot of equipment was lost there," he said, without providing exact numbers.
The commander also pointed out that Ukrainian troops have encountered serious defenses along their way. "You just have to understand that there is a saturation of anti-tank mines and a saturation of enemy forces, it's just colossal", he said.
On Saturday, the Russian Defense Ministry said that Moscow's forces had repelled a total of eight assaults by three Ukrainian brigades on their positions near Robotino and Verbovoye over the past week. It claimed that, in that area alone, Kiev had lost more than 515 troops, 24 armored and 19 ordinary vehicles, as well as 35 pieces of artillery.
Despite the reported losses sustained by Ukraine, its major counteroffensive, underway since early June, has failed to gain any significant ground. Earlier this month, Russian President Vladimir Putin gave an estimate of total Ukrainian losses of more than 71,000 soldiers, 543 tanks, and nearly 18,000 armored vehicles.
Ukrainian officials have also acknowledged that their military is suffering huge losses, blaming the lackluster progress on delays in Western arms shipments, on extensive Russian minefields, and on a lack of airpower.
Against this backdrop, the New York Times reported on Friday that some officials in Washington – Kiev's main donor of military assistance – believe that Ukraine's counteroffensive would "likely fall short of its strategic goals," including that of cutting Russia's land bridge to Crimea. Officials in NYT's report also suggested that "within a few weeks, the Ukrainian army will need time to rebuild their stockpile of equipment and to rest forces exhausted by the summer fighting."
You can share this story on social media: