Azerbaijan is acting 'in its territory' in Nagorno-Karabakh – Kremlin
Moscow has rejected claims that Russian peacekeepers have failed in their duty amid the crisis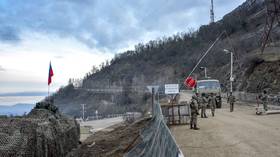 The Kremlin considers the escalation of violence in Nagorno-Karabakh as military action conducted by Azerbaijan within its own territory, spokesman Dmitry Peskov has said.
The remark came on Wednesday in response to complaints from Armenia that Russian peacekeepers deployed in the region were not doing their job properly.
Peskov explained that Armenian Prime Minister Nikol Pashinyan recognizes Azerbaijan's borders to be the same as the administrative borders of Soviet Azerbaijan at the time of the nation's dissolution in 1991. Nagorno-Karabakh was part of the republic at the time.
"We do not accept such complaints directed at us, especially after the Armenian side decided to formally recognize Nagorno-Karabakh as part of Azerbaijan," he said.
De jure, we are talking about the actions of the Republic of Azerbaijan in its own territory.
Russian peacekeepers were involved in the evacuation of civilians from the conflict zone, while the Russian government engaged with the parties to facilitate de-escalation, Peskov added. The Russian Defense Ministry reported earlier in the day that its troops had evacuated over 2,000 people in Nagorno-Karabakh, including 1,049 children.
Baku announced it had begun a counter-terrorism operation in Nagorno-Karabakh on Tuesday, claiming that Armenia was conducting a military build-up in the region and had launched operations against Azerbaijani troops. Yerevan denied the allegations and claimed that Azerbaijan intended to cleanse ethnic Armenians from the territory.
On Wednesday, the authorities in Nagorno-Karabakh announced their decision to cease hostilities with Azerbaijan, following a proposal by the Russian peacekeeping forces.
You can share this story on social media: