Nagorno-Karabakh announces ceasefire with Azerbaijan
The agreement with Baku is to take effect at 1pm local time on Wednesday, the authorities of the breakaway region said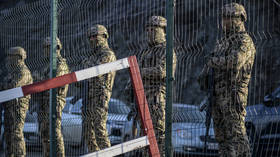 Following a proposal by local Russian peacekeeping forces, authorities in Nagorno-Karabakh have announced their decision to cease hostilities with Azerbaijan, just a day after Baku initiated a counter-terrorism operation in the breakaway region. The Azerbaijani Defense Ministry has confirmed their forces' agreement to halt hostilities as well.
In a statement on Facebook on Wednesday, the InfoCenter of Nagorno-Karabakh said that despite the regional forces' best efforts to repel a "large-scale offensive" by Azerbaijan, "the enemy managed to break into the military positions… [and] take control of a number of heights and strategic road junctions."
Taking this into consideration, Nagorno-Karabakh "accepted the proposal of the command of the Russian peacekeeping mission regarding the cessation of fire," the statement read. "The ceasefire agreement enters into force starting from 13:00 on September 20, 2023," it added. The Azerbaijani Defense Ministry has also confirmed this information.
Azerbaijan's Defense Ministry said the terms of the agreement require both Yerevan's military and "illegal Armenian armed groups" to lay down their arms and leave their combat positions while handing over all weapons to Baku. "The implementation of this process will be ensured in coordination with the Russian peacekeeping contingent," it noted.
Meanwhile, the regional authorities of Nagorno-Karabakh noted that a meeting scheduled for Thursday between the local community and representatives from Baku will address a comprehensive range of topics, including reintegration, human rights, and the security of the local population.
This latest ceasefire came after Azerbaijan launched "counter-terrorism measures of a local nature" in its breakaway region on Tuesday while accusing Armenia of amassing troops there, an allegation Yerevan denied. According to Armenpress news agency, Azerbaijani attacks killed at least 32 people and injured more than 200.
Nagorno-Karabakh, a predominantly ethnic Armenian region, has been the subject of bitter tensions between Baku and Yerevan since the late 1980s. As the Soviet Union was on the verge of collapse, Nagorno-Karabakh ceded from Azerbaijan, escalating into a major war in the early 1990s.
The hostilities ended with a 1994 ceasefire, which has been marred by sporadic fighting ever since. The most notable flare-up occurred in 2020 when Baku took control of a significant chunk of the region's territory. A Russian-mediated ceasefire ended the hostilities.


You can share this story on social media: