Space agency reveals cause of moon-probe crash
Luna-25 was lost because the engine didn't receive a command to shut down, Roscosmos chief says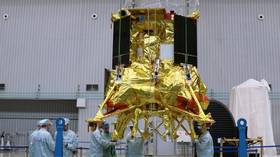 Russia's Luna-25 automatic interplanetary station collided with the Moon last month due to the failure of speed-measuring devices on the probe, Yury Borisov, the head of Russia's space agency Roscosmos, has said.
During the probe's landing procedure, "the correction engine didn't stop working based on the data from the accelerometer," which resulted in the crash, Borisov explained during a press conference on Friday.
The accelerometers that measure the changes in the speed of the vehicle "didn't switch on," he added.
The agency head said experts are now looking for reasons why those devices didn't perform as intended. There are 16 possible scenarios for that to happen, and eleven of them have already been examined, he said.
Borisov also revealed that the first person who offered him words of support after the crash was NASA head Bill Nelson.
Luna-25 was launched on August 11 by a Soyuz 2.1b rocket from the Vostochny Cosmodrome in the Amur Region of Russia's Far East, the first probe sent to the Moon by the country since the Soviet era.
The spacecraft successfully reached its lunar orbit but was lost in the landing attempt on August 19. The Luna-25 "switched to a non-designated orbit and ceased to exist due to a collision with the surface of the Moon," was how Roscosmos described it in the moment.
A few days after the crash, Borisov told journalists that the probe's engine hadn't shut down properly, running for 127 seconds instead of the planned 84 seconds. He said the agency "will, of course, take into account all the errors that were committed during this mission" to make sure that "the future missions of Luna-26, 27, and 28 will be successful."
You can share this story on social media: