EU state threatens to seize Russian cars
Latvia has banned automobiles with Russian license plates from crossing its border checkpoints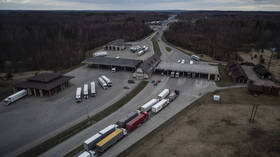 Latvia has closed entry into the country for cars with Russian license plates, save for a few exceptions. This comes after the European Council ordered EU members to confiscate a wide range of personal belongings of Russian citizens entering the bloc.
According to an update on the Latvian State Revenue Service's website published on Tuesday, starting September 12, vehicles registered in Russia will be denied entry into the EU through the Latvia-Russia and Latvia-Belarus border crossings.
"Persons traveling with a vehicle registered in the Russian Federation will not be able to enter the European Union with it, crossing the state border of the Republic of Latvia. Persons with such vehicles will have to return to the Russian Federation or the Republic of Belarus from the border crossing point," the agency clarified, adding that refusal to comply with customs authorities could result in the person's vehicle being confiscated.
The entry ban will not apply to vehicles "intended for the use of diplomatic and consular representations of the European Union and Member States, including delegations, embassies and mission." Additionally, people traveling from the EU to Russia in passenger vehicles with Russian license plates will be allowed to pass as long as the vehicles are not declared as goods and are only being used as a means of transportation.
The move comes after Brussels issued a statement last week explaining that the sweeping trade sanctions imposed on Russia also extend to personal items such as cars, phones, luggage, and even shampoo and toilet paper.
The European Commission urged EU members to "assess and understand the possible risks of sanctions circumvention" and confiscate any such belongings from Russian passport-holders when conducting customs checks.
Moscow has slammed the ban, with Foreign Ministry spokeswoman Maria Zakharova calling it a blatant expression of racism by Western officials.
"Тhis is simply racism. This is not a policy of sanctions, this is not a question of creating some additional benefit for the sinking economy of the European Union. This is racism as it is," Zakharova told TASS on the sidelines of the Eastern Economic Forum on Monday.
Russia's interim customs chief, Ruslan Davydov, has also described the EU ban on personal items as "utter nonsense" and a demonstration of "total lawlessness" that defies the normal logic of customs controls. He noted that Russia's Customs Service will not be adopting any such policies regarding tourists arriving from the EU.
You can share this story on social media: