EU is 'racist' against Russians – Moscow
Foreign Ministry spokeswoman Maria Zakharova blasted the bloc's decision to confiscate the personal possessions of arriving Russian tourists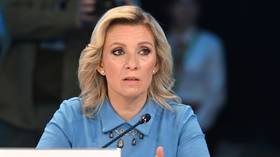 The European Union's ban on Russian nationals bringing personal items into the bloc has nothing to do with sanctions and is instead an expression of blatant racism by Western officials, Russian Foreign Ministry spokeswoman Maria Zakharova has claimed.
Her comments come after Brussels explained on Friday that the sweeping sanctions imposed on trade with Russia over the conflict in Ukraine also extends to personal items such as phones, luggage, and even shampoo and toilet paper.
The European Commission urged EU operators to "assess and understand the possible risks of sanctions circumvention" and confiscate any such belongings when conducting customs checks.
"Тhis is simply racism. This is not a policy of sanctions, this is not a question of creating some additional benefit for the sinking economy of the European Union. This is racism as it is," Zakharova told TASS on the sidelines of the Eastern Economic Forum on Monday.
"Now it is bursting out. Like an abscess that was not treated and which has simply become a fistula. This is a fistula of Western racism."
The spokeswoman also recalled another "wild manifestation of Nazism" by the EU, pointing to an instance when a Russian journalist was banned from attending a press conference by French President Emmanuel Macron simply for being Russian.
"There are simply no justifications for this, no reasons," she said. "Representatives of civil society, culture, and various scientific fields are facing this. When visas are not issued, planned events are canceled, they are not allowed to attend certain conferences, competitions. This is nothing but racism."
Russia's interim customs chief, Ruslan Davydov, also blasted the EU ban on personal items as "utter nonsense" and stated that the decision was a demonstration of "total lawlessness" that defies the normal logic of customs controls.
"At least they have not banned [Russian nationals] from wearing pants when crossing the border," Davydov told journalists, adding that Russia's Federal Customs Service will not adopt similar policies for tourists arriving from the EU.
You can share this story on social media: