EU greenlights seizure of personal phones and cars from Russians
Devices and vehicles from the country cannot be brought into the bloc, even for tourism, the European Commission has said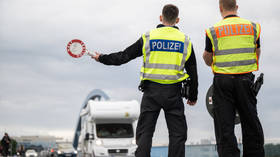 Russian nationals are effectively banned from taking many personal items with them when traveling to the EU, the European Commission confirmed this week. Goods ranging from personal cars and smartphones to soap and even toilet paper are sanctioned and thus cannot be brought into the bloc even temporarily or during tourist travels, it explained.
The latest set of answers to the 'frequently asked questions' by the EU Commission issued on Friday specifically focused on Russian cars. "It is not relevant whether the use of the vehicles is private or commercial" as long as they fall into the sanctioned goods category, it said.
The ban covers "vehicles having a Russian license plate" and "registered in Russia," the commission's statement said, adding that the duration of a car's possible stay in the EU is "not relevant." The clarification came following a series of incidents in which German customs authorities were seen confiscating private Russian cars entering the country at least since July.
Moscow then accused Berlin of "stealing" vehicles and warned its citizens against bringing their cars into Germany. The German authorities justified their actions by citing sanctions imposed against Russia as early as in 2014 and expanded after Moscow launched its military operation in Ukraine in February 2022.
The clarification on Friday by the EU Commission went even further and said that not just cars but a wide range of other personal goods are subject to sanctions as well if they originate from Russia. When asked whether Russian nationals can temporarily bring personal goods and vehicles into the EU, including when traveling as tourists, Brussels said "no," adding that anything listed in Annex XXI to the EU regulation on sanctions against Russia is banned.
The Annex lists more than 180 categories of goods that, apart from private vehicles, include smartphones and any other phones, cameras, women's clothing, various types of bags, footwear, soap, perfumery, and even toilet paper.
NATO and EU nations first imposed sanctions on Moscow in 2014, when Crimea voted to leave Ukraine and become part of Russia in the wake of the Maidan coup in Kiev that year. Moscow has insisted that trade restrictions and the seizure of assets and other Russian property are illegal and tantamount to theft.
You can share this story on social media: