Russia rebukes ally over 'unfriendly steps'
Armenia's ambassador to Moscow was summoned to the Foreign Ministry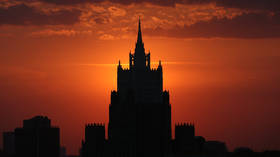 The Russian Foreign Ministry summoned Armenia's ambassador in Moscow on Friday to strongly protest the recent actions of the government in Yerevan against its treaty ally, including holding joint military drills with the US and sending the prime minister's wife to visit Ukraine.
"The Armenian leadership has taken a series of unfriendly steps in recent days, including the launch of the process of ratification of the Rome Statute of the International Criminal Court, the trip of the prime minister's wife Anna Hakobyan to Kiev to deliver humanitarian aid to the Nazi regime, and the holding of military exercises on Armenian territory with the participation of the United States," the foreign ministry said in a statement.
Ambassador Vagharshak Harutyunyan was summoned to the ministry to receive a protest note regarding these actions, as well as the "offensive" statements by Armenian parliament speaker Alan Simonyan aimed at the ministry and its spokeswoman Maria Zakharova.
Moscow also raised concerns about the September 7 arrests of Sputnik Armenia journalist Ashot Gevorkian and blogger Mikhail Badalyan. The two were detained in a province bordering Azerbaijan on suspicion of weapons trafficking, a day after Badalyan criticized the Armenian government in a radio broadcast.
Armenia is a member of the Collective Security Treaty Organization (CSTO), which also includes Russia, Belarus, Kazakhstan, Kyrgyzstan, and Tajikistan. Moscow helped broker the ceasefire between Armenia and Azerbaijan in 2020, sending peacekeepers to the disputed territory of Nagorno-Karabakh.
Armenian PM Nikol Pashinyan has since insinuated that the bloc "failed" to defend Yerevan from Baku and made overtures to NATO instead. The Armenian military is preparing for "interoperability" exercises with the US next week. Earlier this year, Pashinyan told CNN that Armenia is "not an ally" of Russia in the Ukraine conflict.
Yerevan has also moved to ratify the ICC, after the Western-dominated court charged Russian President Vladimir Putin with alleged "forcible deportation" of Ukrainian children. Moscow has dismissed the charge as absurd and noted that the ICC has no jurisdiction over Russia.
According to the Russian Foreign Ministry, however, Moscow still "firmly believes that Russia and Armenia remain allies, and all agreements on the development and strengthening of partnerships will be fully implemented for the benefit of the peoples of our two countries," including the upcoming CSTO exercises and the deployment of a CSTO observation mission to facilitate a peace treaty between Armenia and Azerbaijan.
You can share this story on social media: