Armenia arrests 'opposition' journalists
A blogger who criticized the government and a Russian media reporter have been detained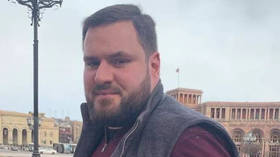 Sputnik Armenia correspondent Ashot Gevorkian and blogger Mikhail Badalyan have been detained near the border with Azerbaijan, the government in Yerevan confirmed on Thursday.
Gevorkian and Badalyan were among the seven persons arrested in the Syunik province on Wednesday and Thursday, according to Gor Abrahamyan, a spokesman for the Investigative Committee of Armenia. He added that the arrests were related to suspected violations of Article 355 of the criminal code, described as "illegal trafficking of firearms and ammunition."
Sputnik Armenia said that Gevorkian was working on a radio show about the lives of Armenians in the region bordering Azerbaijan, which has seen sporadic clashes over the past several years.
Badalyan was taken by "unknown men wearing masks at a hotel in Goris" on Wednesday evening, according to Evgeny Primakov, the head of the Russian agency for international cooperation Rossotrudnichestvo.
Primakov also hosts a radio show on Sputnik. In a social media post, he said that Badalyan had been a guest on Tuesday evening and "expressed the opposition viewpoint quite strongly and criticized the government of Armenia" on air.
"I do not rule out that this is another provocation in connection with the upcoming Russian-Armenian media forum in Yerevan," said Russian Foreign Ministry spokeswoman Maria Zakharova, noting that the West has invested "a lot of money" into spoiling relations between Russia and Armenia.
"I refuse to accept that the government that came to power with the slogan 'freedom of speech is the absolute right of everyone' would approve the persecution of journalists and block the free flow of information," Zakharova added.
Armenia is a member of the Collective Security Treaty Organization (CSTO), which also includes Russia, Belarus, Kazakhstan, Kyrgyzstan, and Tajikistan. Russia helped broker the ceasefire between Armenia and Azerbaijan in 2020, after a 44-day conflict over the disputed territory of Nagorno-Karabakh.
Armenian PM Nikol Pashinyan recently accused Russia of "abandoning" the South Caucasus in an interview with the Italian outlet La Repubblica, prompting Moscow to disagree.
"There are more Armenians living in Russia than in Armenia itself," Kremlin spokesman Dmitry Peskov said, adding that Moscow "can't abandon Armenia" because Russia is "an integral part of this region."
You can share this story on social media: