Armenia can't join NATO – ruling party MP
Accession to the US-led bloc is not possible due to political and technical reasons, Sargis Khandanyan has argued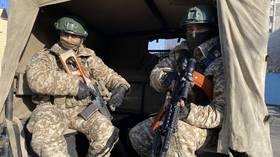 Armenia is open to security cooperation with other nations but has no path toward NATO membership, an MP from the country's ruling party has claimed. Sargis Khandanyan made the comments amid diplomatic tension between Yerevan and treaty ally Moscow.
"I see no opportunity for [NATO membership] for technical and political reasons, and the Armenian government has never expressed a wish for membership," Khandanyan, who is a member of Prime Minister Nikol Pashinyan's Civil Contract party, said on Thursday.
Khandanyan chairs the parliamentary Committee on Protection of Human Rights and Public Affairs. Speaking during a briefing, he reiterated the government's criticism of the Collective Security Treaty Organization (CSTO), claiming it was failing his country. Armenia is a member of the group alongside Belarus, Kazakhstan, Kyrgyzstan, Russia, and Tajikistan.
Earlier this week, the Armenian Defense Ministry announced a joint military exercise with the US. The 'Eagle Partner 2023' drills will be held in Armenia later this month "in the framework of preparation for participation in international peacekeeping missions," the ministry stated.
Yerevan has repeatedly complained that it has not benefited from CSTO membership during its decades-old standoff with Azerbaijan. The US has offered itself to Yerevan as a supposedly better security provider than Russia.
Moscow has rejected Pashinyan's claims that it is withdrawing from the South Caucasus. Russia is "integral" to the region and "can't go anywhere [or] abandon Armenia," Kremlin spokesman Dmitry Peskov stated on Tuesday.
Pashinyan's wife, Anna Hakobyan, traveled to Kiev this week to take part in an annual Ukraine-initiated meeting of first ladies and gentlemen from supporter nations. In Armenia, the role of the first lady formally belongs to the wife of its ceremonial president, although Hakobyan performs its functions.
In addition to shaking hands with President Vladimir Zelensky, as shown by an image she posted on Facebook, Hakobyan also reportedly delivered humanitarian aid. Armenia previously distanced itself from both Russia and Ukraine after hostilities between the two nations broke out last year.
You can share this story on social media: