Treaty ally of Russia to stage war games with US
Armenia says the 'Eagle Partner 2023' exercise will improve interoperability and focus on peacekeeping missions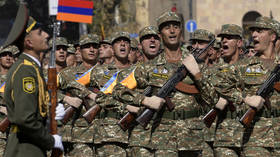 The US and Armenian militaries will hold joint exercises later this month, with special emphasis on peacekeeping operations, Yerevan has announced. Armenia is a member of the Collective Security Treaty Organization (CSTO), which also includes Russia, Belarus, Kazakhstan, Kyrgyzstan, and Tajikistan.
Yerevan has been increasingly critical of the CTSO's role in the South Caucasus, claiming that the bloc has failed to shield it from alleged Azerbaijani aggression.
The Armenian Defense Ministry announced the drills with the US in a statement on Wednesday, declaring that they would be held "in the framework of preparation for participation in international peacekeeping missions."
The exercises will take place from September 11 to 20 in Armenia, the statement added. Among other things, military personnel will practice "stabilization" measures between "belligerents."
According to the ministry, "the purpose of the exercise is to increase the level of interoperability of the unit participating in international peacekeeping missions."
Armenian military officials claimed that the drills would serve as another step within the framework of NATO's Partnership for Peace (PfP) program.
NATO defines the PfP initiative as a tool to facilitate "practical bilateral cooperation between individual Euro-Atlantic partner countries and NATO," and "improve the ability of Alliance and partner forces to operate together in NATO-led operations."
Commenting on Monday on calls for Armenia to join NATO, Deputy Foreign Minister Vahan Kostanyan said his country is "ready to continue" its cooperation with the bloc, but that it has not received an invitation to join and accession is not on the agenda.
In an interview with Italian newspaper La Repubblica on Sunday, Armenian Prime Minister Nikol Pashinyan claimed that Moscow is "abandoning the [South Caucasus] region."
He accused Russian peacekeepers of "being unable or unwilling" to exercise control over the Lachin corridor, which links the disputed region of Nagorno-Karabakh to Armenian territory.
Commenting on Pashinyan's remarks, Kremlin spokesperson Dmitry Peskov insisted that "Russia is an integral part of this region. Therefore, it can't go anywhere."
Armenia and Azerbaijan fought a 44-day war in 2020 for control over Nagorno-Karabakh – a section of Azerbaijani territory that has a predominantly Armenian population – which declared independence from Baku in the early 1990s. The fighting ended with a Moscow-brokered truce that involved the deployment of Russian peacekeepers to the area.
You can share this story on social media: