Police arrested over suspected $270,000 Bitcoin theft
A pair of Moscow police officers have been charged with large-scale fraud and could face up to ten years in prison, RBK reports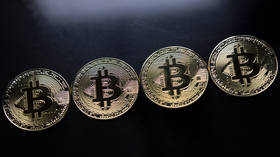 Two officers in the Moscow police force have been detained on suspicion of swindling $265,000 in Bitcoin from a businessman, law enforcement sources have told local media.
The RBK outlet reported on Thursday that a criminal case had been launched against the duo by the Prosecutor's Office. They've been charged with large-scale fraud and could face up to ten years in prison.
A source told the outlet that the two criminal investigation department officers stopped a man on the street on July 19, handcuffing their victim, seizing his phone and forcing him into an SUV.
While inside the vehicle, the suspects allegedly threatened the man, who turned out to be a crypto investor, claiming that a criminal case would be launched against him for alleged criminal activity if he did not pay up.
The victim, who was not named, transferred 9.6 bitcoins (around 26.2 million rubles or $270,000) to the police officers' crypto-wallets, according to the source.
The Moscow Police press service confirmed to Tass news agency that the suspects "misled a citizen about his alleged involvement in unlawful activities and received money from him … for avoiding liability."
If found guilty, the officers will be dismissed from the police ranks and could face ten years in prison, it said.
You can share this story on social media: