Ukraine used cluster munitions against civilians – Human Rights Watch
Kiev targeted the population of Russian-held Izyum with the controversial projectiles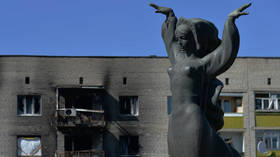 The Ukrainian military used cluster munitions to shell the city of Izyum and caused civilian deaths, Human Rights Watch said on Tuesday. The attack happened months before the US provided Kiev with additional cluster shells, overruling the objections of many NATO members.
"We figured this out after the Russians left and our investigators went there to look into the war crimes and atrocities that were committed – and they saw remnants of cluster munitions everywhere," HRW's Mary Wareham told RIA Novosti. "After finding out the direction from which the fire came, they established that they had been used by Ukrainian forces."
The 110-page Cluster Munition Monitor 2022 report, published by HRW this week, lists deployments of such weapons by both sides in the conflict. It notes that the group had first reported on the attack on Izyum in July, but that the Ukrainian Defense Ministry officially denied ever using such munitions in or around the settlement.
The city commands a key strategic position in Kharkov Region and was held by Russian forces between May 2022 and late September, when they withdrew due to a Ukrainian attack further north. In addition to the attacks documented by HRW investigators, the Ukrainian military had used cluster munitions against the area throughout 2022, the report noted, citing the UN's Independent Commission of Inquiry on Ukraine.
Wareham pointed out that HRW had detailed testimonies about civilians who were killed or wounded by cluster bombs.
A HRW report from January also included information about the Ukrainian use of cluster munitions, as well as the targeting of Izyum by 'Butterfly'anti-personnel mines, which killed 11 civilians and wounded around 50, including five children. HRW said that the Russian military informed the civilians about the danger of the mines, citing testimonials from around 100 local residents.
"Cluster munitions are abhorrent weapons that are globally banned because they cause both immediate and long-term civilian harm and suffering," Wareham said while announcing the annual report. "It's unconscionable that civilians are still dying from cluster munition attacks 15 years after these weapons were outlawed."
Over the years, the HRW has released a number of reports about the use of cluster munitions in the Ukrainian conflict, stating that both sides were using them. The organization noted, however, that its ability to gather evidence of Ukrainian attacks is hampered because it cannot safely access Russian-controlled territories.
Ukraine, Russia, and the US are not party to the Convention on Cluster Munitions (CCM), which has sought to ban this type of ordnance, citing its toll on civilians. Earlier this year, Washington rejected objections from several NATO allies who are party to the CMM and sent Kiev 155mm artillery shells loaded with dual-purpose improved conventional munitions (DPICM).
Some US outlets have reported that the Pentagon receives detailed reports from Ukraine about when and where its DPICM ordnance is used. Russia has documented multiple instances of their use against civilians in Donetsk.
You can share this story on social media: