Ukraine attacks Donetsk with cluster munitions – authorities
Civilian targets were affected by Saturday night's shelling, local officials have said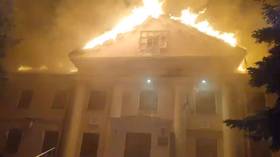 Ukrainian forces have reportedly fired cluster munitions into Donetsk city, striking a private residence, a university and other civilian targets.
Four rounds of 155mm cluster bombs were fired into the center of the city on Saturday night, triggering fires in three districts, the Joint Center of Control and Coordination (JCCC) for the Donetsk People's Republic (DPR) said. The cluster munitions reportedly exploded in the air.
The Donetsk University of Economics and Trade was on fire after the shelling, the Mayor of Donetsk Aleksey Kulemzin said in a Telegram post. Fires also were reported in apartment buildings.
The shelling comes after at least three people were killed and ten injured by a Ukrainian bombardment on Monday. The shelling killed another civilian in a nearby town, the JCCC said.
Cluster munitions have been banned by more than 100 countries because of their devastating effects on civilians. Cluster shells are typically designed to open up in midair and release tens or even hundreds of submunitions that can saturate a large area with explosives. They tend to have a high failure rate, creating risks to civilians from unexploded munitions for potentially decades after a conflict ends.
Donetsk and other Donbass cities have been under constant Ukrainian attacks which have claimed numerous civilian lives since 2014, when the region broke away from Kiev after a Western-backed coup in the Ukrainian capital. Over the years, Ukraine's military established heavily fortified positions around the cit. The attacks intensified after the launch of Moscow's military operation against Kiev in February 2022, leaving scores of civilians killed and delivering major damage to infrastructure.
The Donetsk People's Republic became part of Russia last October together with the People's Republic of Lugansk and Zaporozhye and Kherson Regions, following referendums in which the local populations voted overwhelmingly in favor of the move.
You can share this story on social media: