Footage purportedly shows first-ever loss of top UK tank to enemy fire
The British-supplied armored vehicle was destroyed by Russian artillery, online sources claim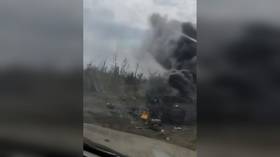 A video circulating online appears to show a destroyed Challenger 2 main battle tank which was provided to Ukraine by the UK. It would be the first time that such a tank has ever been lost to enemy fire.
The unverified clip was filmed from a car passing the wreck of a destroyed tank, with its main gun protruding from clouds of black smoke. Its distinctive turret appears to be that of a Challenger 2, which has a thermal vision system housed in this section.
The occupants of the car can be heard cursing with Ukrainian accents. Another destroyed tank, which appears to be a Soviet-designed T-64, can also be seen a little further down the road.
Online sources sharing the video claim that it was filmed near the village of Rabotino in Zaporozhye Region. There have been intense battles in the vicinity of this settlement in recent weeks, as Ukrainian forces pushed forward to capture it.
One of the Ukrainian units involved in the operation was the elite 82nd Air Assault Brigade, which was armed with four Challenger 2 tanks as the UK helped Kiev to gear up for the summer counteroffensive. The vehicle in the footage may have been one of those tanks.
The UK has pledged to deliver 14 Challenger 2 tanks to Kiev, though some Ukrainian officials claim to have been promised double that number. The Russian Defense Ministry has not reported the destruction of any of them, as it has in relation to other Western-made armor such as the Leopard 2 tank or Bradley infantry fighting vehicle.
The only other time that a Challenger 2 has been destroyed in combat during more than two decades of operational history involved a friendly-fire incident during the 2003 invasion of Iraq. The Queen's Royal Lancers tank was misidentified as an enemy vehicle by another Challenger 2 from the 2nd Royal Tank Regiment outside Basra. It fired and the single gun round hit the turret, killing two crew members and destroying the vehicle.
You can share this story on social media: