West deceived Russia on grain deal – Putin
The majority of shipments from Ukraine under the Black Sea initiative did not go to poor countries, the Russian president has said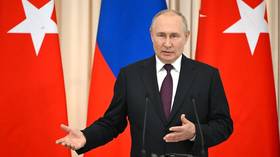 The West lied to Russia when it stated that the humanitarian goal of the Black Sea initiative was to deliver Ukrainian grain to the poorest countries in the world, President Vladimir Putin claimed on Monday.
Speaking at a press conference following a meeting with Turkish counterpart Recep Tayyip Erdogan in Sochi, Putin stated that over 70% of the grain shipped out of Ukrainian ports as part of the agreement had ended up in the EU and other wealthy nations.
"The share received by the countries most in need of food accounted for only 3%. That is less than 1 million tons," Putin said.
The president alleged that while Russia had provided security guarantees for grain shipments, "the other side" had used the humanitarian corridors to conduct terrorist attacks against Russian civilian and military facilities.
The UN- and Türkiye-brokered grain deal initially came into effect in July 2022, and Ukraine has since repeatedly conducted drone raids on various targets in the Black Sea. That includes attacks on cargo ships, Russia's Black Sea Fleet headquarters in the port city of Sevastopol, and the Crimean Bridge which connects the Crimean peninsula with mainland Russia.
"This cannot be tolerated any longer," Putin said on Monday.
The Russian leader insisted that Moscow had effectively been "forced" to terminate its participation in the grain deal in mid-July this year, accusing the West of refusing to uphold its end of the bargain and lift sanctions on the export of Russian fertilizer and other agricultural products.
However, if the US and EU fulfill their obligations and remove these restrictions, Moscow will consider reinstating the treaty, Putin said. He added that Russia will meanwhile continue to export food and fertilizer products to improve the situation with the global agricultural industry.
You can share this story on social media: