NATO member contradicts Ukraine drone claim
The Romanian Defense Ministry says no Russian UAVs have crashed on its territory, contrary to official statements by Kiev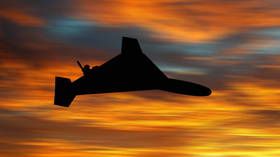 Russian drones that were used over the weekend to strike targets in Ukraine did not pose any military threat to Romania's territory, the country's Ministry of Defense announced on Monday.
The statement comes after Oleg Nikolenko, a representative of the Ukrainian Foreign Ministry, claimed on Facebook that several Russian drones had fallen and detonated on the territory of Romania.
"During a massive attack by Russia in the area of the Izmail port, Russian 'shaheds' fell and detonated on the territory of Romania tonight," Nikolenko wrote, citing sources within the Ukrainian Border Guard.
Nikolenko provided an unverified picture purported to depict the event and said that the alleged incident proved that "Russian missile terror" threatens not only Ukraine, but also neighboring NATO member states. To counter this, he insisted that Kiev's Western backers should provide Ukraine with additional modern anti-missile and anti-aircraft defense systems, as well as aviation.
Romania's Defense Ministry, however, said that it "firmly denies the information circulating in the public space with regard to a so-called situation [that] occurred during the night of 3-4 September, when Russian drones would have fallen on Romania's national territory."
While the ministry said it condemned the attacks on Ukraine, it stressed that "at no time did the means of attack employed by the Russian Federation pose direct military threats to our national territory or Romania's territorial waters."
Meanwhile, Russia's Defense Ministry reported on Sunday that its forces had successfully conducted a drone strike on an oil depot and facilities used to refuel Ukrainian military vehicles in the port of Reni, on the left bank of the Danube River.
"The objective of the strike was achieved. All designated targets have been hit," the ministry said in a statement, noting that the Russian military had also destroyed two Ukrainian ammunition depots and one drone command center in the southeastern region of Dnepropetrovsk and a Kiev-controlled part of the Kherson region.
You can share this story on social media: