Child killed by Ukrainian shelling of Donetsk
More than ten people were also injured by the strike on the Russian city, local authorities say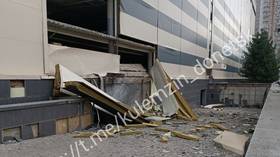 A child was killed and more than ten people were wounded on Friday as Ukrainian forces used multiple rocket launch systems to bombard the center of Donetsk, the capital of Russia's Donetsk People's Republic (DPR), local authorities have said.
A total of 15 projectiles were fired at the area of the Donetsk City mall during rush hour, the Joint Center for Control and Coordination (JCCC) said on Telegram on Friday.
The mall itself was hit and suffered damage, according to images shared by the city's mayor Aleksey Kulemzin.
Initial reports claimed that more than ten people were injured and that a child had been rushed to hospital in critical condition.
In a later post, however, the JCCC said that "regrettably, a gravely wounded six-year-old girl couldn't be saved."
The strike took place on September 1, the day when children across Russia return to school after the summer holidays. The JCCC didn't say if Ukraine had used Soviet-made multiple rocket launchers or US-supplied HIMARS systems in the shelling.
Earlier on Friday, the Donetsk authorities reported another attack on the city with the use of cluster munitions and at least three MRLS incendiary missiles.
Donetsk has been a frequent target of Ukrainian strikes since the outbreak of the conflict between Kiev and the Donetsk and Lugansk (LPR) People's Republics back in 2014. The Ukrainian military established heavily fortified positions around the city.
The attacks on Donetsk intensified after the launch of Moscow's military operation against Kiev in February 2022 and continued after the DPR, LPR, and Zaporozhye and Kherson Regions joined Russia following referendums last fall. The Ukrainian shelling has killed numerous civilians and caused major damage to the city of almost 1 million.
You can share this story on social media: