Unexploded device detonates in Donetsk killing three
Three civilians were killed and another injured in Donetsk after a Ukrainian cluster shell exploded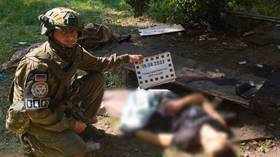 Three utility workers were killed in the Russian city of Donetsk on Friday when a faulty Ukrainian cluster shell exploded, according to local officials. Another worker was injured in the blast.
The workers, who had been repairing water pipes in central Donetsk, were caught in the blast during their lunch break. They were killed on the spot in a "detonation of an explosive device," Donetsk Mayor Aleksey Kulemzin said. Two others were hospitalized following the blast.
According to media reports and local officials, the explosion was caused by a Ukrainian cluster artillery shell. The unexploded device may have been hanging from a tree or in a trash can, local residents told the media. The shell suddenly detonated and released its sub munitions, which exploded, hitting the civilians.
In recent weeks, the Ukrainian military has ramped up its use of cluster munitions, repeatedly firing them at Donetsk and other locations near the front line. The shells have already caused multiple deaths and injuries among civilians.
The uptick in the use of cluster munitions comes after last month the US sent so-called dual-purpose improved conventional munitions (DPICM) for NATO-caliber 155mm howitzers. The controversial delivery, which was criticized even by some of the US' closest allies, came as a stop-gap measure to compensate for a shortage of conventional artillery shells, as admitted by President Joe Biden.
Over the course of the ongoing conflict, Russia has accused the Ukrainian military of repeatedly using cluster munitions from its domestic stockpiles to target civilian areas. In particular, Kiev's forces have on many occasions shelled Donetsk and its surroundings with unguided multiple rocket artillery projectiles containing the controversial anti-personnel PFM-1 petal mines.
You can share this story on social media: