Ukraine shells Donetsk with cluster munitions again (PHOTOS)
Civilians were killed and injured by US-supplied ordnance, authorities say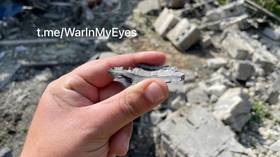 One civilian was killed and another injured on Wednesday, as Ukrainian artillery renewed its shelling of the residential districts of Donetsk city, according to local authorities. At least one of the strikes involved cluster munitions supplied to the Kiev government by Washington.
Artillery destroyed or damaged several residential buildings in the Kirovsky district, killing a 70-year-old man, the Joint Center for Control and Coordination (JCCC) said in a report on the shelling.
Another strike on nearby Yasinuvataya targeted the electrical utility. A 48-year-old man was injured, according to the authorities.
Photos posted on Telegram showed the destruction of residential homes on Leontovich street, where the 70-year-old died. A dog appears to have died in the rocket strike as well.
Cluster bombs were used later in the evening on a residential area in the Kievsky district. The "dual-purpose improved conventional munitions" (DPICM) for 155mm howitzers were sent to Ukraine by the US last month, due to shortage of conventional high-explosive ordnance, as President Joe Biden admitted.
Russia has accused the US of complicity in Ukrainian war crimes due to the use of cluster munitions, which were banned by much of the world – including by most of Washington's NATO allies. According to CNN, the government in Kiev submits reports on their use to the Pentagon.
Ukraine's military has regularly shelled civilians in Donetsk since 2014, when local residents declared independence following the US-backed coup in Kiev. Last week, five people were killed and 13 injured in two days of artillery attacks that also featured the use of cluster munitions.
The heaviest shelling was recorded on August 8, when three people were killed and 11 injured after 95 volleys of approximately 350 rounds. A day later, a four-year-old girl and an elderly resident were killed, and two more civilians injured, when Ukrainian artillery "obliterated" a residential building in the Petrovsky district, according to Donetsk Mayor Aleksey Kulemzin.
Russia recognized the Donetsk and Lugansk People's Republics as independent states in February 2022. They have since become parts of Russia, alongside Zaporozhye and Kherson Regions, following referendums held last September.
You can share this story on social media: