Pentagon unveils another arms package for Ukraine
The latest transfer marks the 44th round of US military aid to Kiev since February 2022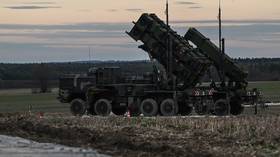 The Pentagon has announced a $200 million weapons package for Ukraine, including artillery rounds, dozens of tactical vehicles and mine-clearing gear. The latest donation comes as Ukrainian troops struggle to penetrate heavy Russian fortifications in their ongoing offensive.
US military officials outlined the new aid on Monday night, saying Kiev would also receive "critical" ammunition for the Amer-made Patriot air defense and HIMARS rocket artillery systems, 120mm tank shells, TOW missiles, Javelin rockets and 12 million rounds of small arms ammunition, among other equipment.
In addition, officials noted that $6.2 billion would be released from funds "recaptured" following a Pentagon accounting error earlier this year, in which the military over-stated the value of certain weapons. Back in May the Pentagon said the newly "found" resources – then estimated at $3 billion – would "go back into the pot of money" and finance future aid packages.
The latest military assistance comes as Ukrainian forces scramble to punch through powerful Russian defenses erected across a 600-mile (1,000km) front line, part of a foundering counteroffensive launched in June. On Sunday, Kiev's Defense Minister Aleksey Reznikov said troops were being slowed by large Russian mine fields, calling them a "serious obstacle" to the operation.
He went on to urge Kiev's Western patrons to "expand and expedite" training for sappers and transfers of mine-clearing equipment, saying Ukraine's current resources were "extremely insufficient" at the front.
Following a meeting of 54 nations that support Ukraine held last July, several European NATO members agreed to help train and equip new engineering teams. However, at the time Reznikov said more assistance would inevitably be needed, with some Ukrainian commanders describing Western sapper gear as "ineffective."
Though the new Pentagon aid package announced on Monday was said to include mine-clearing equipment, officials did not specify what systems would be provided. A previous weapons transfer included M58 Mine Clearing Line Charges, while Washington allocated another $89 million for mine-clearing purposes last year.
Drawn directly from US inventories, the new weapons mark the 44th round of assistance since the conflict with Russia broke out last year, carrying a price tag of some $43 billion, not counting separate aid under the Pentagon's Ukraine Security Assistance Initiative.
Moscow has repeatedly denounced foreign arms transfers to Kiev, arguing the weapons will only prolong the bloodshed and increase the risk of triggering a wider conflict.
You can share this story on social media: