Pentagon revises Ukraine aid 'accounting error'
The "recaptured" funds will go toward future weapons packages for Kiev, officials say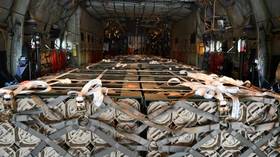 The US military has said it overestimated the value of arms transferred to Ukraine by more than $6 billion over the last two years, more than doubling the Pentagon's original assessment first disclosed in earlier this year.
Deputy Pentagon Press Secretary Sabrina Singh revised the figure during a Tuesday press conference, telling reporters that US aid was overvalued by $6.2 billion, including $2.6 billion last year and another $3.6 billion in 2023.
"In a significant number of cases, services used replacement costs rather than net book value, thereby overestimating the value of the equipment drawn down from US stocks and provided to Ukraine," she said.
Singh added that the mistake did not have any meaningful impact on aid to Kiev, noting that it would instead allow Washington to supply even more assistance on top of the $40 billion already authorized since Russia sent troops into the neighboring state last year.
Asked whether the newly 'found' $6.2 billion had already been allocated for future aid, the spokeswoman said the funds would "go back into the pot of money," and that such decisions would be made before the next arms package is approved.
White House National Security Advisor Jake Sullivan previously argued that the accounting error did not suggest a lack of oversight for US aid to Ukraine, insisting "this money is being spent effectively and appropriately."
Some lawmakers have voiced skepticism, however, with Republican Senator Marco Rubio demanding a comprehensive review of the assistance last week. Several other GOP members have echoed calls for an audit, with Representative Marjorie Taylor Greene arguing that American citizens "have no idea where all this money is going."
While US officials insist that aid is being properly monitored, an unnamed intelligence source described major oversight problems in comments to CNN last year, saying Western weapons fall into a "big black hole," and that Washington has "almost zero" sense of where arms end up in Ukraine.
You can share this story on social media: