Pentagon 'factored in' Ukrainian casualties
Washington still believes that Kiev's offensive can be successful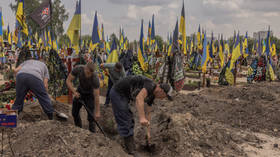 The US military believes that Ukraine has everything it needs to succeed on the battlefield, the Pentagon's deputy press secretary, Sabrina Singh, told reporters on Tuesday.
"We have accounted for losses. We know that there's going to be losses on the battlefield. That's the unfortunate part of this war, but it's something that we've seen the Ukrainians overcome from the beginning," Singh said, responding to a question about Ukrainian casualties in men and equipment.
"We know this is going to be a hard fight. We know that it's going to take time," Singh added. "We are confident that the Ukrainians have what they need – they have the combat power – they have the ability to be successful in their counteroffensive operations."
Singh's comments come after two weeks of heavy fighting on the Zaporozhye front, in which Ukrainian brigades trained by the West failed to reach the main Russian defensive line, while losing thousands of men and hundreds of armored vehicles, according to Moscow. The losses have included German-made Leopard tanks and US-made Bradleys.
On Monday, the New York Times reported that some cemeteries in western Ukraine were digging up old graves to make room for new burials amid the "seemingly countless funerals."
Ukraine's deputy defense minister, Anna Malyar, said on Tuesday that it is "quite difficult" for troops to advance, but that the operation's success should not be measured in territorial gains. NATO Secretary-General Jens Stoltenberg acknowledged that the Ukrainians face "a difficult terrain" and "dug-in Russian resistance."
Last week, Russian President Vladimir Putin revealed that Ukraine had lost more than 600 armored vehicles, including 186 tanks, in less than two weeks of fighting and "won't be able to wage war like that for long" relying solely on supplies from the West.
At this rate, Ukraine will exhaust its offensive capability by July, Russian lawmaker Andrey Kartapolov said in a TV appearance on Tuesday.
"Every tactic they have used has not worked," he said on the 'Solovyov Live' show. The Ukrainian military, he added, had already lost around 20,000 of the 50,000 troops it had reportedly trained for the offensive, with 900 dead and wounded in just the past 24 hours.
Kartapolov commanded the Russian expeditionary force in Syria between December 2016 and March 2017, overseeing the second liberation of Palmyra. He retired in 2021 with the rank of four-star general, and currently chairs the State Duma's defense committee.
You can share this story on social media: