Ukrainian counteroffensive to end in weeks – Russian MP
Moscow's troops are likely to repel Kiev's offensive in July and launch an attack of their own, Andrey Kartapolov has claimed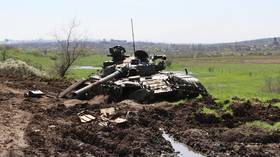 Kiev's forces will exhaust their offensive capabilities in July if the current Ukrainian casualty rate persists, the head of Russia's State Duma Defense Committee, Andrey Kartapolov, said on Tuesday.
Ukrainian troops have lost some 900 soldiers to deaths and injuries over the past 24 hours alone, the colonel general explained. According to Kartapolov, they have also lost nine tanks and dozens of armored vehicles over the same period. "If it continues at this pace, I believe we will finish repelling [this offensive] in three weeks and move on to dynamic actions ourselves," the MP predicted in an appearance on the 'Solovyov Live' show.
The lawmaker claimed that Ukraine had already lost around 20,000 soldiers out of the 40,000 to 50,000 it had reportedly trained for the offensive. While he did not name his sources, he claimed the much-awaited Ukrainian operation had largely failed.
"Every tactic they have used has not worked as of now," he said. Kiev's troops did not advance further than the Russian forward defense area security zone and did not even reach the first defense line, the MP added.
According to the Russian Defense Ministry, over 600 Ukrainian servicemen have been killed over the past 24 hours, as Kiev's troops continued their attacks on Russian positions. The Ukrainian forces also lost dozens of armored vehicles, as well as a dozen artillery pieces, including at least three US-made M777 howitzers, the ministry revealed in its daily briefing on Tuesday.
Kiev's large-scale offensive began on June 4. Ukrainian troops have suffered heavy losses in the attacks, which have been repelled by Russian forces, according to the Russian Defense Ministry.
Last week, it said that 7,500 of Kiev's frontline troops had either been killed or wounded. Russian President Vladimir Putin also said last week that Kiev had lost up to 30% of the heavy equipment supplied to it by the West.
You can share this story on social media: