Russian defense minister questions quality of Western weaponry
Foreign arms supplied to Kiev have proven to be far from perfect amid the fighting in Ukraine, Sergey Shoigu said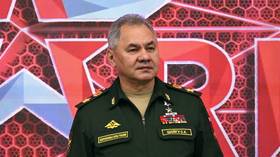 Western weapons that have been delivered to Ukraine have not performed as they were expected to on the battlefield, whereas Russian arms have proven their effectiveness, Russian Defense Minister Sergey Shoigu claimed on Monday.
Speaking at the opening ceremony of the annual Army 2023 military-technical forum, Shoigu stated that many new innovations from his country's military-industrial complex are already being deployed on the battlefield to assist troops in carrying out military operations in Ukraine.
"In real conditions, our weapons show their reliability and effectiveness," the minister said. "At the same time, the widely advertised Western equipment turned out to be far from flawless in reality," he added. Shoigu suggested that guests of the forum could see this for themselves by checking out the collection of captured Western weapons on display at the expo.
The US and NATO have so far sent over $100 billion worth of weapons, equipment and ammunition to Kiev. Earlier this year, they also supplied modern Western tanks to the Ukrainian military, in expectation of a grand spring-summer counteroffensive. However, since launching the operation in early June, Kiev has yet to achieve significant progress and has been suffering heavy casualties trying to break through Russian defenses, losing some 5,000 pieces of heavy equipment, including dozens of Western tanks and combat vehicles, as well as some 43,000 soldiers, according to Russian Defense Ministry estimates.
Shoigu said the Russian military-industrial complex has not only "quickly adapted to work under severe sanctions pressure," but has also increased its capacity in certain areas severalfold.
The minister noted that the Army forum had become one of the world's leading exhibitions in the defense sphere and expressed hope that moving forward, it will be able to make further contributions to strengthening military-technical cooperation between Russia and other countries, establishing a dialogue and facilitating the signing of mutually beneficial contracts.
The Army 2023 forum kicked off outside Moscow on Monday, August 14 and will run for a week. The annual event is being held at multiple venues, including the Patriot Expo venue, as well as the Kubinka Air Base and Alabino military training grounds.
Negotiations at last year's expo led to the signing of numerous contracts between various parties worth a total of over 500 billion rubles, or nearly $8 billion at the time.
You can share this story on social media: