Ukraine to review all draft exemptions – Zelensky
Kiev wishes to expand conscription as casualties mount on the battlefield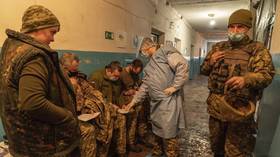 The National Security and Defense Council (NSDC) of Ukraine decided on Wednesday to review every single draft exemption issued since the start of the conflict with Russia, citing widespread corruption.
"All cases where [exemption] decisions are clearly groundless and illegal should be dealt with by law enforcement," President Vladimir Zelensky announced after the NSDC meeting.
The council also decided to fully digitize the entire Armed Forces database and revise the criteria for determining fitness for military service, to prevent "manipulation" and give field commanders more opportunities to find appropriate roles for soldiers.
NSDC head Aleksey Danilov said that Ukraine is rolling out a "newly approved" plan for further mobilization, calling up as many men as it may need to continue the fighting.
Zelensky sacked the heads of all enlistment offices in early August, after the Ukrainian Security Service (SBU) announced the discovery of a "widespread conspiracy" to forge health exemptions by military-medical commissions in 11 regions of the country. The conspirators allegedly charged up to $6,000 for fraudulent papers, which draft-dodgers then used to leave the country.
The government in Kiev has ordered several waves of conscription since the hostilities with Russia escalated in February 2022. In late June, recruitment centers in several regions stopped sending individual summonses, issuing blanket notifications to all men of military age instead.
After Zelensky's purge of enlistment commissioners, the Financial Times reported that some fraudulent exemptions could cost up to $10,000, and that almost 20,000 Ukrainians have been caught trying to dodge the draft, citing official government figures. The BBC spoke of a widespread social media movement to help the draft-dodgers, with groups with as many as 100,000 members offering tips, tricks and other assistance.
Meanwhile, photos posted on social media in recent months have shown cemeteries across Ukraine filling up, due to the death toll of the grinding offensive against Russian positions in the south. Earlier this week, mobile operator Kievstar mentioned "400,000 heroes" who had "gone to eternity" in a charity drive, before quickly deleting the post.
You can share this story on social media: