Zelensky threatened by possible military coup – former CIA analyst
Ukraine's disgruntled army may go after its president, Larry Johnson has warned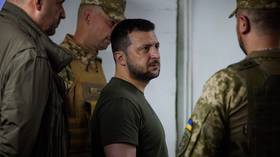 Failures on the battlefield could push the Ukrainian military to move against President Vladimir Zelensky, retired CIA analyst Larry Johnson has said.
"Zelensky very well could be ousted in a coup within the next three to four weeks, because of the great disgruntlement among troops on the eastern front," Johnson told Redacted host Clayton Morris in an interview posted over the weekend.
Ukraine's grand offensive in Zaporozhye, launched in early June with Western-trained troops and NATO-supplied tanks and armored vehicles, has failed to achieve a breakthrough anywhere. Additional brigades, intended to exploit the intended breach, have been deployed to continue the frontal attacks instead, to the point that the US and its allies are publicly airing their frustrations with Ukrainian tactics.
Johnson is not the first American analyst to speculate about the military turning on Zelensky. Earlier this month, former US Marine officer Scott Ritter said the likelihood of a military coup was growing with each destroyed Ukrainian brigade.
"We could be reaching a Kerensky 1917 moment, where the military just says 'We're done'," Ritter told MOATS host George Galloway. He also brought up a recent Politico article, which laid out who would run Ukraine if Russia somehow assassinated Zelensky. According to Ritter, however, Moscow has no intention of going after Zelensky, as he might be replaced by someone even more hardline.
Johnson told Redacted that the way the conflict is going, Ukraine's survival as a country was "in great doubt." Kiev is already entirely dependent on the West, and its needs will only grow while its capabilities will continue to shrink, the former CIA official said.
The US strategy for the conflict was to trap Russia in an unwinnable war and induce regime change in Moscow, according to Johnson. Instead, "that's going to happen to Ukraine," and Washington will have to figure out how to "back away" from the conflict, because it has massively underestimated Russia's economic and military strength.
Russian Foreign Minister Sergey Lavrov reasoned along similar lines earlier this month, saying in an interview that Ukraine's Western patrons are publicly committed to "fight until the last Ukrainian" but have a history of abandoning their allies and proxies, from South Vietnam to "Ashraf Ghani's regime in Afghanistan in 2021."
Faced with Western concerns about his legitimacy if he cancels the 2024 presidential election, Zelensky has proposed holding the vote – but demanded funding from the West to do so.
The Ukrainian leader has also voiced fears that he might be abandoned by the West if Ukraine goes too far in attacking Russia. His aide Mikhail Podolyak has since argued that the US and its allies have given their blessing for attacks on "occupied territories" – meaning Crimea, Donetsk, Lugansk, Zaporozhye and Kherson. Since Crimea voted to rejoin Russia in 2014 and the four regions did the same last September, Moscow considers them no less Russian territory than Belgorod or Kursk, which have also been targeted by Ukraine.
You can share this story on social media: