Zelensky demands Western money to hold elections
The US will also have to send observers to the trenches to validate ballots, should they be held, the Ukrainian president has said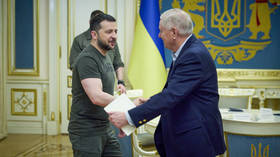 Westerners calling for Ukraine to hold elections during the conflict with Russia should be prepared to pay millions of dollars and "take risks" on the front line to ensure that ballots are legitimate, President Vladimir Zelensky has said.
Speaking during a TV interview on Sunday, Zelensky addressed criticism in the West over the suspension of democratic processes in Ukraine and suggested a price tag for holding a presidential election next year. The Ukrainian leader specifically referenced comments by US Senator Lindsey Graham during his visit to Kiev last week.
"I asked him: are you prepared to give me five billion?" Zelensky said, describing his conversation with the US politician.
Zelensky did not clarify the currency he was referring to, but the value in Ukrainian hryvnia would equate to around $135 million. The amount would also tally with a recent estimate by the Ukrainian authorities on how much it would cost to hold a presidential election next year. Zelensky further suggested that the level of assistance required may be even higher.
"I am not asking for anything. I will not conduct an election on credit. Neither will I take money out of [funding for] arms and hand it out for an election," the Ukrainian leader insisted.
"The most important thing is: let us take risks together then, how else? Observers [of the election] will have to be in the trenches," he added.
Ukraine cannot legally hold elections under martial law. Graham discussed the situation during a press briefing in Kiev, saying: "I want to see this country have a free and fair election even while it is under assault."
Zelensky claimed he had explained the situation to the US senator, who supposedly agreed with his reasoning. The Republican is a vocal advocate of arming and funding Kiev, and stated last year that with support, Ukraine "will fight to the last person" against Russia, describing it as the right "structural path."
Zelensky said he would not oppose an election, provided that Western nations are willing to extend the necessary funding and risk lives, and if the Ukrainian parliament amends the law accordingly.
Ukraine faced accusations that its democratic institutions were being eroded long before hostilities with Russia broke out in February 2022. Zelensky's government has cracked down on opposition parties and media, claiming the steps were necessary to curb Moscow's influence inside the country.
During his TV interview on Sunday, the Ukrainian leader suggested that criticism over the absence of elections was a ploy to undermine US support for Kiev.
You can share this story on social media: