Zelensky uses martial law to avoid election
The October vote will not happen if Ukraine's parliament renews emergency measures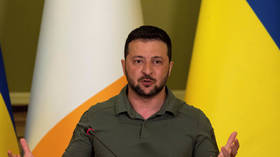 Ukrainian President Vladimir Zelensky on Wednesday proposed to extend the state of emergency, thereby effectively canceling parliamentary elections scheduled for October.
Zelensky declared martial law on February 24, 2022, and has been extending it ever since. The most recent 90-day extension was announced on May 20, and is due to expire on August 18. If the Verkhovna Rada approves Zelensky's latest request, this will see the emergency extended through November 15.
Ukrainian law calls for parliamentary elections no later than October 29, with a 60-day campaign season starting on August 28. However, it also forbids campaigning and voting during martial law. Another extension would cut into the campaign season for the presidential elections, currently scheduled for March 2024.
"If we have martial law, we cannot have elections. The constitution prohibits any elections during martial law," Zelensky announced in May. The following month, he told the BBC that "elections need to happen in a time of peace, when there is no fighting."
Some of Ukraine's supporters in Europe and North America have been critical of the possible cancellation of elections. Parliamentary Assembly of the Council of Europe (PACE) head 'Tiny' Kox said in an interview in May that Ukraine should prepare for a vote as soon as possible.
"Although democracy is far more than only elections, I think we all agree that without the elections, democracy cannot properly function," Kox said at the time.f
Zelensky ran on a peace platform in 2019 and won with 73% of the vote. Shortly thereafter, his newly formed party – named after the TV show in which he played a fictional president of Ukraine – won a supermajority in the Verkhovna Rada. By late 2020, he had pivoted away from the notion of peace in Donbass and began to openly talk about a military solution for "occupied territories."
Three months after the conflict with Russia began, in May 2022, Zelensky enacted a law that allowed him ban any political parties merely accused of being "pro-Russian," without any right to appeal. Since then he has outlawed a dozen parties, including the once largest parliamentary opposition bloc.
Earlier this month, the Federal Intelligence Service of Switzerland accused Zelensky of attempting to "politically eliminate" Kiev mayor Vitaly Klitschko ahead of next year's presidential election. The FIS cited "credible intelligence" to say that Zelensky was "showing authoritarian traits" which may lead to Western pressure, according to a classified report leaked to the outlet NZZ.
You can share this story on social media: