Ukraine's Western backers permit attacks on Crimea – Zelensky aide
Kiev' supporters agree that they "can destroy everything Russian in the occupied territory," Mikhail Podoliak claims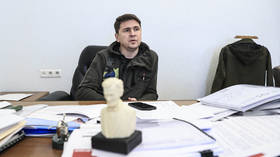 Western backers of Ukraine are now at an "absolute consensus" on Ukrainian strikes deep into Russian territories claimed by Kiev, including the Crimean Peninsula, top presidential aide Mikhail Podoliak said on Monday.
"Let me remind you that a year ago, even when there were some strikes on Crimea, everyone said – 'No, no, let's just do without it'. Today, the absolute consensus among the number of countries that support us is that we can destroy everything Russian in the occupied territory," Podoliak told Ukrainian TV.
Podoliak was referring to Russian territories Ukraine still claims as its own, including the Crimean Peninsula, which broke away from Kiev in the aftermath of the 2014 Maidan coup in Kiev, ultimately joining Russia. Four other formerly Ukrainian territories, namely Kherson and Zaporozhye Regions, and the Donetsk and Lugansk People's Republics, were incorporated into Russia last year following referendums.
Podoliak did not elaborate on who among Kiev's Western handlers opposed attacking deep into Russia, given that none of them actually recognize said territories as a part of Russia.
The official also promised to ramp up attacks on other Russian territories, promising they would be subjected to attacks by "unknown drones," a phrase that deflects responsibility for the widely criticized UAV attacks on Russian cities and civilian hubs.
"As for Russia, there are drones. Let's note the official position here – [drones] of an unknown nature. And of course, the number of these drones will increase," he said.
Over the course of the conflict between Russia and Ukraine, which broke out in February 2022, Kiev has repeatedly subjected Russian soil to drone and missile strikes, as well as sporadic artillery shelling.
While Russia's border territories, such as Belgorod and Kursk, have seen it the worst, in recent months Ukraine has repeatedly targeted the capital city of Moscow with long-range drones. The strikes were squarely described by Russian leaders as "terrorist attacks," which targeted almost exclusively civilian sites in the capital, but failed to inflict any significant damage.
You can share this story on social media: