US military believes Ukraine is wasting ammo – analyst
Kiev's forces have fired some 2 million artillery rounds, exhausting Western stockpiles, a leading foreign policy commentator has claimed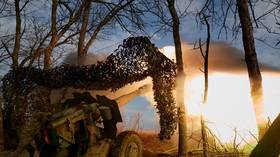 The Pentagon believes that Ukrainian commanders need to avoid wasting ammunition and alter their artillery tactics to hit only the most important targets, Washington Post columnist David Ignatius has claimed.
In an article published on Sunday, Ignatius claimed the US and its allies have grown frustrated with Kiev over its failure to achieve any significant results during its much-lauded summer counteroffensive, and have been conducting a review of the "lessons learned" during the operation.
One of the key takeaways from Washington's assessments, according to Ignatius, is that the Russia-Ukraine conflict is unlikely to be resolved this year, as many in Kiev had hoped. Instead, the Pentagon believes the fighting will probably drag on into 2024, and possibly beyond, meaning Washington and its allies will have to keep supporting Kiev's forces.
The Pentagon has reportedly been urging Ukrainian commanders to better prioritize targets and concentrate their forces on potential breakout points along the Russia-Ukraine front.
American commanders are also supposedly concerned that Kiev has been wasting artillery fire by emulating Soviet-era tactics. One US estimate cited by Ignatius suggests that Ukrainian forces have fired some 2 million rounds of 155mm artillery ammunition since the fighting broke out in February 2022, and have nearly exhausted Western stockpiles.
Earlier this month, the Washington Post also reported that the US has encountered a shortage of raw materials, particularly TNT, as it tries to restock its own arsenal and continue supplying Ukraine with ammunition. According to the outlet, bumping up production of artillery shells to 28,000 per month – in line with the current goal – would be insufficient to satisfy "Ukraine's astonishing hunger for artillery ammunition," let alone replenish Washington's depleted stockpiles.
Kiev's choice of tactics throughout the conflict has repeatedly been questioned by both Ukraine's Western backers as well as Russia. Last week, President Vladimir Putin criticized Zelensky's commanders, accusing them of turning their own soldiers into cannon fodder. He called their decision to throw Ukrainian soldiers onto Russian minefields under artillery fire "astonishing," and said Kiev was acting as if these troops weren't even its citizens.
You can share this story on social media: