Ukrainian draft dodgers aggravating troop shortages – BBC
Kiev constantly needs "tens of thousands" of fresh recruits to replace casualties, the British state broadcaster has reported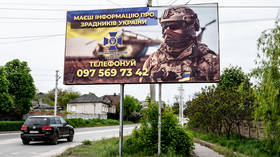 Ukraine is struggling to reinforce its troop numbers due to "constant" heavy casualties suffered in the conflict with Russia and the population's unwillingness to replace those no longer able to serve, the BBC reported on Tuesday.
"The country constantly needs to replace the tens of thousands who've been killed or injured," the British state broadcaster said, adding that many Ukrainian troops are exhausted following 18 months of hostilities with Moscow.
According to the broadcaster, Ukrainians have formed mass chat groups on social media to share ways of dodging conscription, including providing tip-offs on Telegram of draft patrol officers' routes. The groups exist throughout Ukraine and some have as many as 100,000 members, the BBC added.
Thousands have already fled Ukraine in an attempt to avoid the draft, while others are planning to do so, the BBC claimed. It said that those fleeing often bribe officials, including recruitment officers, to ensure safe passage abroad.
Earlier this month, Ukrainian President Vladimir Zelensky dismissed every single regional military official responsible for conscription following a series of corruption scandals. The Ukrainian authorities had previously opened 112 criminal cases against territorial draft center officials, Zelensky revealed at the time.
Ukrainian defense officials have described the alleged offenses committed by those responsible for the draft campaign as "shameful and unacceptable."
Fired personnel will be replaced by combat veterans unfit for active duty, Zelensky said in early August, claiming that they had "no cynicism" and could be trusted.
According to the BBC, officers involved in the recruitment campaign stand accused of employing increasingly heavy-handed tactics. People have allegedly been summoned to recruitment centers for registration, often only to be seized on the spot and deprived of the chance to return home, the broadcaster claimed. Draft officials are also accused of using "harsh or intimidating tactics," the British broadcaster said, while fresh recruits can reportedly find themselves on the front lines "with just a month of training."
The report comes as Kiev struggles with the much-hyped counteroffensive against Russian forces launched in early June. According to Moscow, Ukrainian troops have failed to make any significant progress, often only reaching the first line of Russian defenses.
The Russian Defense Ministry has estimated that Ukraine has lost some 43,000 soldiers and around 5,000 pieces of heavy equipment since the start of the operation. Last week, Russian Defense Minister Sergey Shoigu told the Moscow Conference on International Security that Western weapons and tactics have failed to grant Kiev's troops any edge on the battlefield. Western military equipment has also proved not to be "unique or invulnerable to Russian weapons," he added.
You can share this story on social media: