Zelensky launches sweeping military purge
All of the regional conscription officials have been fired and will be replaced by combat veterans, the Ukrainian president has said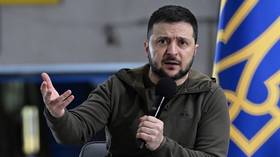 Ukrainian President Vladimir Zelensky has sacked all of the regional military officials responsible for the country's conscription campaign following a string of corruption scandals. Those who were not involved in any quid pro quo schemes can keep their military rank only if they head to the frontline.
The Ukrainian leader announced the purge on Friday, after holding a 'special' meeting of the National Security and Defense Council, which focused on the results of an inspection of the country's military recruitment offices.
"Our decisions are the following: We are dismissing all regional 'military commissars'. This system should be run by people who know exactly what war is and why cynicism and bribery in times of war constitute treason," Zelensky said.
Offering a peak at the scale of the problem, Zelensky revealed that Ukrainian authorities had opened 112 criminal cases against officials working in territorial recruitment centers, with a total of 33 suspects. He noted that the suspects included commissars, medical commissions employees, and other officials across six regions.
"Some took cash, some took cryptocurrency – that's the only difference. The cynicism is the same everywhere," he stated, vowing that those found guilty would be held accountable.
At the same time, Zelensky continued, if innocent officials do "want to keep their shoulder marks and prove their dignity, they should go to the war front."
According to the Ukrainian leader, the fired personnel will be replaced by combat veterans or those unfit for military action due to crippling injuries, but who have still "retained their dignity," as these are people who "have no cynicism" and "can be entrusted with this system of recruitment."
The announcement comes after Kiev's authorities exposed a massive conspiracy scheme, which allegedly allowed Ukrainian recruits to purchase fraudulent medical certificates to avoid conscription. Another scandal involved Evgeny Borisov, a former senior conscription officer in Odessa Region, who was arrested by Ukrainian law enforcement after being accused of illicit enrichment.
Ukrainian media outlets have also reported that after Kiev announced a general mobilization in February 2022, members of Borisov's family bought a villa in Spain and other luxury items to the tune of several million dollars.
You can share this story on social media: