Public mood in Ukraine 'somber' amid 'sluggish' counteroffensive – The Economist
People are losing the will to fight amid battlefield failures, the outlet has warned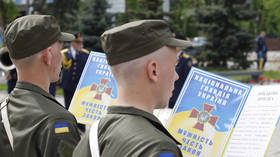 Ukrainian society is showing increasing signs of fatigue over the conflict with Russia, with some frontline soldiers hoping for a ceasefire, despite the government's determination to keep fighting, The Economist has claimed.
"The public mood is sombre," the British publication reported on Sunday, pointing to the heavy losses suffered by Ukrainian troops during the summer counteroffensive.
The public increasingly perceives the conflict as "a war that has no end in sight" and is reluctant to pay for it in treasure and blood, the article reads, adding that people who were keen to fight "volunteered long ago", so Kiev is now "recruiting mostly among the unwilling."
"It makes the air so thick that you can actually feel it," an activist supporting the troops told the magazine. With the cost of prolonging hostilities becoming obvious, "even hoping for success in the counter-offensive has become an act of self-destruction."
The attitude is apparently shared by those doing the fighting, The Economist suggested, citing an interview with a sniper, which went viral in Ukraine earlier this month. The soldier, Konstantin Proshinsky, claimed that fellow troops would take a truce with Russia "absolutely fine."
"I am not speaking for everyone, but I don't believe that in that scenario the army would turn around and march to Kiev to topple the government," he told local media.
He branded as "self-gratifying populism" President Vladimir Zelensky's maximalist goal of retaking all land that Kiev claims to be under its sovereignty, including Crimea.
The Russian Defense Ministry assessed Ukrainian battlefield casualties during the counteroffensive at over 43,000 as of early August.
Kiev has taken an uncompromising stance on talks since last year, after what Moscow claimed to be a US order to ditch a draft peace agreement and fight on. Russian officials have accused Western powers of fighting a proxy war against their nation "to the last Ukrainian."
You can share this story on social media: