Top Zelensky aide rules out peace talks with Russia
Moscow must suffer "significant tactical defeats" before any negotiations can begin, Mikhail Podoliak says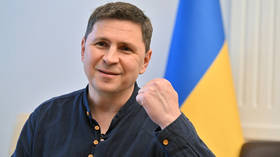 Negotiating with Russia is "out of the question" until the situation on the battlefield changes, Mikhail Podoliak, a top aide to Ukrainian President Vladimir Zelensky, has said.
Moscow "continues to delude" itself that it will be able to hold on to the territories it captured from Kiev, Podoliak claimed in an interview with Italian newspaper Corriere della Sera on Wednesday.
The Russian side must "suffer significant tactical defeats on the front line" to develop "a more realistic assessment of the situation," he assessed, and only after that could some peace talks begin.
Ukraine's much-anticipated counteroffensive, which was launched almost three months ago with the goal of cutting Russia's land bridge to Crimea, has failed to deliver those "significant tactical defeats" to Moscow. According to Russian estimates, Kiev's losses by early August amounted to more than 43,000 troops and nearly 5,000 pieces of heavy equipment. Ukrainian officials have so far only reported the seizure of several villages that aren't part of the main Russian defense lines.
Podoliak was asked specifically if he was ready to discuss the status of Crimea, which has been part of Russia since 2014, when the peninsula held a referendum on seceding from Ukraine following a violent coup in Kiev.
He responded by referring to earlier statements by Zelensky, who claimed that officials in Moscow must be put into a situation in which they would have to "choose between losing everything or abandoning Crimea." This could only be achieved by Ukrainian forces reaching the borders of the peninsula and destroying the weapons that allow Moscow to keep it under its control, the aide explained.
Despite ruling out any talks with Moscow, Podoliak insisted that Russian President Vladimir Putin saw "our willingness for dialogue as a weakness that should be exploited to his advantage."
Russia has been saying for months that it is ready to look for a peaceful settlement to the conflict at the negotiating table. However, it pointed out that a lack of desire to engage in diplomacy from either Kiev or its Western backers leaves it no other choice but to keep working towards achieving its goals in Ukraine on the battlefield.
Last fall, Zelensky signed a decree officially banning him from talks with Putin. The Ukrainian leader has been promoting his so-called ten-point peace plan, which calls for Russia to withdraw to borders claimed by Kiev, pay reparations, and submit to war crimes tribunals. Moscow instantly rejected the proposal as "unrealistic."
You can share this story on social media: