Kiev's ability to reconquer territories is 'questionable' – top EU general
Russia is "clearly superior to Ukraine" when it comes to weapons and personnel reserves, the EU military committee head has said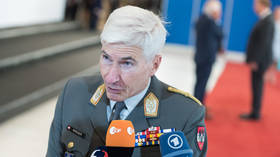 Ukraine might not be able to achieve its goals in the conflict with Russia, the Chairman of the EU Military Committee General Robert Brieger admitted to German daily Die Welt daily on Thursday. Moscow possesses vastly superior weapons and personnel reserves and can continue fighting for a long time despite Western sanctions, Brieger warned.
The Ukrainian counteroffensive launched more than two months ago "has not gained any ground yet," he said, before urging "caution" about expecting any breakthroughs in the future.
"The number of brigades available to Kiev for the offensive is limited," he told the newspaper, adding that the Russian forces had built "well-secured defense lines" in the months before the Ukrainian operation.
The Austrian general, who chairs the meetings of the chiefs of staff from all 27 EU members and serves as an adviser to the bloc's top diplomat, Josep Borrell, believes that the conflict between the two sides has come down to a "war of attrition."
Under such circumstances, Moscow has some visible advantages over Kiev, Brieger said. "Russia has a very large number of weapons and a huge reserve of potential troops," he explained, adding that "in this regard, Russia is clearly superior to Ukraine."
The sanctions imposed by the West against Russia over its continued military campaign in Ukraine have also barely impacted Moscow's ability to continue the fight, the general noted. "I am convinced that Russia can continue the war in Ukraine for a very long time," he said.
Kiev's ability to recapture all the territories it considers part of Ukrainian territory "remains questionable," Brieger said. The general also said he does not expect the EU to let Ukraine join the bloc before the conflict ends and a peaceful solution is found.
Even after that, Ukraine's membership might pose additional security risks for the EU, Brieger believes. The general said that territorial disputes with Moscow could remain even after the end of the fighting. In the future, if another conflict breaks out, the bloc would have to defend Ukraine under Article 42.7 of the EU treaty if it becomes a member state, he added.
"As soon as Ukraine joins the European Union, this would mean completely new obligations for the EU in terms of security policy," Brieger said, adding that the organization "would be challenged much more than before."
You can share this story on social media: