2024 BRICS summit to be held in Kazan – Putin
The exact dates are yet to be determined, the Russian president has said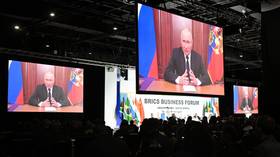 The next BRICS Summit will be held in October 2024 in the Russian city of Kazan, President Vladimir Putin announced via videolink at the leaders' gathering in South Africa on Wednesday.
The chairmanship of the group will pass to Moscow next year, Putin noted, before declaring that the theme Moscow has chosen for its tenure will be "Strengthening multilateralism for equitable global development and security." Some 200 political, economic and social events will be held throughout the year and hosted by more than a dozen cities, according to the Russian leader.
"At the same time, we plan to hold a BRICS Summit in October 2024 in the city of Kazan. We will agree on specific dates with our colleagues through diplomatic channels," Putin said, adding that there are plans to hold several events in the "BRICS plus/outreach" format, which has so far proven successful.
The current BRICS summit is being held from August 22 to 24 in Johannesburg, South Africa, with over 40 foreign leaders taking part. Russia is represented in person by Foreign Minister Sergey Lavrov, while President Putin is taking part via videolink.
In March, the International Criminal Court (ICC), of which South Africa is a member, issued a warrant for Putin's arrest, citing Ukrainian allegations that Russia had conducted "unlawful population transfers" when it evacuated children from the Donbass conflict zone. Moscow has denied the allegation and stressed that it does not recognize the court's authority, calling the warrant legally null and void.
You can share this story on social media: