Ukraine crisis caused by Western attempts to preserve hegemony – Putin
BRICS members reject the notion of exceptionalism, the Russian leader has stated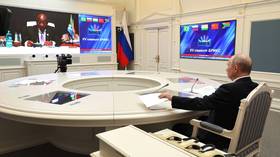 Attempts by the West to maintain its hegemony are the main cause of the conflict in Ukraine, Russian President Vladimir Putin has claimed. He added that members of the BRICS group of nations unanimously reject the idea of exceptionalism.
"We are against any hegemony, the notion of exceptionalism promoted by some nations, and the policy of neocolonialism derived from that claim," the Russian leader said on Wednesday during a speech via video link to a summit of BRICS leaders in South Africa.
The BRICS group, which includes Brazil, China, India, Russia, and South Africa, firmly believes in "the formation of a multipolar world order, truly just and based on international law," Putin stated.
Explaining the origins of the Ukraine crisis, Putin accused Western powers of facilitating the "anti-constitutional coup" in Kiev in 2014. After seizing power, the new Ukrainian authorities "unleashed a war" against those who rejected them, Putin said.
"Our actions in Ukraine have but one motive: to put an end to this war that the West and its satellites in Ukraine started against the people living in Donbass," the president stressed.
He conveyed Moscow's gratitude to BRICS members, which he said are working to resolve the situation "in a fair way through peaceful means."
Russia deployed troops against Ukraine in February 2022, stating that its goals were to stop Kiev's attacks on Donbass, ensure Ukrainian military neutrality, and eliminate radical nationalist forces. The US and its allies have claimed that Moscow's military action was "unprovoked," and have pledged to arm and fund Kiev for "as long as it takes" to defeat Russia.
Moscow has identified NATO's expansion in Eastern Europe and particularly its increasing influence in Ukraine as a major threat to Russian national security. In 2021, the Russian government sought to negotiate with the West to address those concerns, but its efforts were rejected.
You can share this story on social media: