Ukraine can't defeat Russia – ex-NATO general
The West must acknowledge the situation on the ground and negotiate, a former Italian military commander says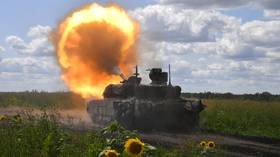 Ukraine will be unable to defeat Russia on the battlefield as Moscow has more men and an "impressive" advantage in firepower, retired Italian general Marco Bertolini has said.
"The Ukrainian victory is inconceivable. We must take note of this fact and sit at the negotiating table," said Bertolini, who headed Italy's Joint Operations Command and the Folgore paratroopers brigade in the 2000s.
"This war should've been stopped much earlier, but in recent months the rhetoric of 'we will win' has been cultivated, fueling the expectations in the public opinion of a victory that is impossible on the ground. The Ukrainians will not prevail," he told Libero Quotidiano newspaper on Monday.
Kiev's much-anticipated counteroffensive, which started in early June, "proceeds slowly," the retired general remarked.
He mentioned a report by the Washington Post last week, which cited a classified US intelligence assessment that concluded "Ukraine's counteroffensive will fail to reach the key southeastern city of Melitopol," and that the aim of severing Russia's land bridge with Crimea would not be realized this year. According to Bertolini, this was "an acknowledgment that Kiev's objectives can't be achieved in the expected form and time frame."
"The Russians have an advantage in the number of men and firepower. The firepower unleashed by the Russians, especially when it comes to artillery, is superior and this is impressive considering the aid that has arrived in Ukraine from all over the West," he said.
The retired general suggested that there's now an understanding in many circles that reclaiming territories captured by Russia from Ukraine is "unrealistic." He also pointed out that "a ceasefire with the prospect of Ukraine joining NATO, at any moment, and resuming hostilities won't suffice for the Russians."
"The conflict can only be ended through negotiations" in which the interests of both sides are respected, Bertolini said.
Russian Foreign Minister Sergey Lavrov said last week that Moscow remains ready for "meaningful dialogue" on Ukraine, but the prospects for negotiations with the West "are non-existent at this stage." Kiev's main backer, the US, which declared the goal of inflicting a strategic defeat to Russia in Ukraine, "has no intention of ending the conflict," he insisted.
Washington maintains that any negotiated settlement must be based on the so-called ten-point peace plan proposed by Ukrainian President Vladimir Zelensky, which calls for Russia to withdraw to borders claimed by Kiev, pay reparations, and submit to war crimes tribunals. Lavrov described this as a "pointless ultimatum."
You can share this story on social media: