US officials admit they missed opportunity for Ukraine peace – Politico
With Kiev's counteroffensive failing, the White House now recognizes that it should have heeded earlier calls for talks, anonymous sources have claimed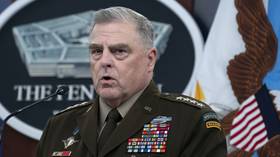 American officials have told Politico that they may have "missed a window" to push for peace talks between Russia and Ukraine. Speaking anonymously, they conceded that Chairman of the Joint Chiefs of Staff Mark Milley "had a point" when he offered a grim pronouncement on Kiev's chances for victory last year.
More than two months into Ukraine's counteroffensive against Russian forces, Kiev has failed to capture more than a handful of hamlets and villages in Zaporozhye region, and has lost at least 43,000 men and nearly 5,000 pieces of equipment in the process, according to the latest figures from the Russian Defense Ministry. Although the Ukrainian government still insists it can retake all of its claimed territory by force, Washington is increasingly unsure.
"We may have missed a window to push for earlier talks," a US official told Politico on Friday, adding that "Milley had a point."
Speaking in New York in November, Milley said that a military victory would likely be unachievable for Ukraine, and that Kiev could use the wintertime pause in fighting to enter negotiations with Moscow and avoid any further losses.
His comments reportedly angered Kiev and caused panic in the White House, which rushed to reassure the Ukrainian leadership that it would continue to support President Vladimir Zelensky's maximalist aims – which include retaking Crimea, an historic Russian territory that voted to rejoin the Russian Federation in 2014.
Media reports suggest that Washington has been divided on the idea of peace talks since at least last year, with President Joe Biden and Secretary of State Antony Blinken vehemently rejecting negotiations, against the wishes of some members of the military and intelligence agencies. This split persisted as Ukraine geared up for its counteroffensive, with reports indicating that despite Biden's and Blinken's optimism, the Pentagon knew Kiev wasn't ready for the operation, and the CIA expected it to end in failure.
Pessimism is now spreading in the White House, another anonymous official told Politico, saying that the Biden administration is increasingly asking itself "If we acknowledge we're not going to do this forever, then what are we going to do?"
Milley has continued to suggest a diplomatic solution to the conflict. "If the end state is 'Ukraine is a free, independent, sovereign country with its territory intact'... that's gonna take a long, long time, but you can also achieve those objectives — maybe, possibly — through some sort of diplomatic means," he told the Washington Post this week.
Russian Foreign Minister Sergey Lavrov has said that any negotiations will be held "not with Zelensky, who is a puppet in the hands of the West, but directly with his masters." The Kremlin also maintains that any potential peace deal will have to recognize the "new territorial reality" – that the regions of Donetsk, Lugansk, Kherson, and Zaporozhye will not be ceded back to Ukraine.
You can share this story on social media: