Kiev estimates F-16 delivery timeline
Ukraine will not receive the US-made fighter jets for at least six months, according to its defense minister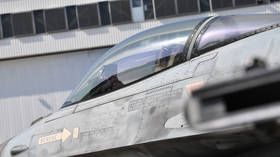 Ukrainian forces will not be supplied with Western F-16 fighter jets for at least another six months, Defense Minister Aleksey Reznikov announced on Tuesday, citing the need to train more personnel.
"I think that six to seven months is the minimum period that needs to be consciously estimated," Reznikov was quoted as saying by RBK-Ukraine. He claimed that if the transfer takes longer, it is important "not to be disappointed."
The minister explained that it is not enough simply to train pilots in order to obtain the jets. Ground service personnel, technicians, and engineers, amounting to several hundred people, must also be prepared. Reznikov said it is currently unclear exactly how long it would take to train them, given the complexity of maintenance and repair systems for F-16s.
The comments come after the US approved third-party transfers of the warplanes to Ukrainian forces. The move was officially confirmed by Denmark and the Netherlands last week. The latter country has 42 F-16s but has not yet specified how many it will deliver, despite Ukrainian President Vladimir Zelensky suggesting the Dutch would be donating their entire fleet. Copenhagen has said it will give Kiev 19 of its fleet of F-16s.
The Pentagon has stressed though that final authorization for the transfers will only be given after Kiev meets "certain criteria." Among them is that Ukrainian pilots and ground personnel undergo a training course to operate and maintain the planes, which also includes English language tuition.
On Monday, Pentagon Deputy Press Secretary Sabrina Singh stated that the level of language training required by Ukrainian pilots was "significant" and noted that the process is "going to take some time."
Earlier this month, media outlets such as Politico and the Washington Post reported that F-16 training for Ukrainian servicemen could be impeded by the language barrier. Citing military and government officials in Kiev, the outlets noted that only eight out of the first 32 pilots selected to fly the jets currently have sufficient English skills to take part in the training program.
Moscow, meanwhile, has repeatedly cautioned against the continued delivery of increasingly sophisticated weapons to Ukraine by the US and its allies, arguing that it could cross Russia's 'red lines' and result in a major escalation of hostilities.
Russian President Vladimir Putin has also insisted that any F-16s delivered to Ukraine "will burn" just like German-made Leopard-2 tanks, American Bradley Fighting Vehicles, and other Western-supplied weapons
You can share this story on social media: