Ukrainian pilots must learn English to get F-16s – Pentagon
Kiev must meet 'certain criteria,' including language training, Deputy Press Secretary Sabrina Singh says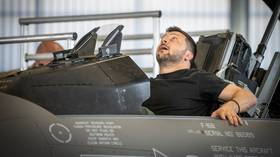 The US has received requests from the Netherlands and Denmark to transfer F-16 fighter jets to Ukraine, but Kiev must meet "certain criteria" before they're approved, a Pentagon spokesperson has said.
"In order for the third-party transfer to be completed there are certain criteria that have to be met, including the English language training, other things like logistics on the ground," Deputy Press Secretary Sabrina Singh explained during a briefing on Monday.
She said the level of language training that Ukrainian pilots require was "significant," adding that this process is "going to take some time."
In early August, Politico reported that F-16 training for Ukrainians provided by European countries could be impeded by the language barrier. According to the outlet's sources, only eight out of the first group of 32 pilots selected to fly the US-designed fourth generation fighter jets had sufficient knowledge of English for them to take part in the program.
"So once that criteria is met, we'll be in a position to authorize the transfer," the deputy press secretary added.
Singh also confirmed that the US was "open" to the idea of training Ukrainian airmen to fly the F-16s in the event that the Netherlands and Denmark lacked the capacity to teach all of the pilots sent by Kiev at once.
It'll be up to Ukraine to decide how many of its pilots are going to receive F-16 training, she said, adding that Kiev still hasn't come up with the final number.
On Sunday, both the Netherlands and Denmark announced that they would provide Ukraine with F-16s, which Kiev had been demanding for months amid its conflict with Russia.
The Netherlands, which has 42 F-16 jets, didn't say how many it would donate, but Ukrainian leader Vladimir Zelensky claimed that the whole fleet would be heading to Kiev. Denmark promised to give 19 planes to Ukraine, six of which will be provided by the end of the year.
In June, Russian President Vladimir Putin said the F-16s "will burn" once they're delivered to Ukraine, just like the Leopard-2 tanks, Bradley fighting vehicles and other Western-supplied weapons that were previously supplied.
Moscow has repeatedly warned that supplies of more sophisticated weapons to Ukraine by the US and its allies could cross its 'red lines' and result in a major escalation of hostilities. Russia argues that the provision of arms, intelligence sharing and training to Kiev's troops already means that Western nations are de facto parties to the conflict.
You can share this story on social media: