Putin visits Ukraine military operation headquarters (VIDEO)
The president held a meeting with military officials in the southern Russian city of Rostov-on-Don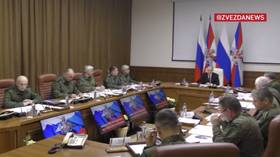 Russian President Vladimir Putin met with the head of the General Staff, Valery Gerasimov, and other high-ranking military commanders during an unannounced visit to the headquarters of Russia's Southern Military District, the Kremlin said on Saturday morning.
The president received classified briefings from Gerasimov and other senior commanding officers involved in the military operation in Ukraine, the brief statement said.
Russian state media shared a video of the rare visit, which shows the head of the General Staff greeting Putin at the headquarters ahead of the closed-door meeting. However, it remains unclear when exactly the meeting took place.
Last week, Putin convened a meeting with members of the Russian Security Council and on Monday addressed the Army-2023 expo outside Moscow. In a video message to the congress, Putin hailed the expo's contribution to multifaceted relations between Russia and other nations, emphasizing that Moscow "is open to deepening equal technological partnership and military-technical cooperation with other countries."
The city of Rostov-on-Don hosts the headquarters of the Southern Military District, which is primarily responsible for the military operation in Ukraine. In June, the forces of the Wagner private military company briefly captured the headquarters armed with heavy weapons, but faced little resistance, as officials negotiated a peaceful resolution to the short-lived mutiny attempt.
The southwestern Rostov Region borders the frontline Donetsk and Lugansk People's Republics, and has repeatedly come under Ukrainian drone and artillery attack over the past year and a half.
In July, the port city of Taganrog, which is around 60 kilometers from Rostov, was hit by a repurposed anti-aircraft S-200 missile, injuring over a dozen civilians and inflicting material damage.
You can share this story on social media: