Key moments of aborted Wagner revolt in Russia
RT breaks down how the private military company's attempted rebellion unfolded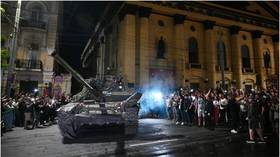 The Wagner private military company led by Evgeny Prigozhin launched an insurrection in Russia that began on Friday evening and lasted through Saturday.
The armed contractors managed to seize an army headquarters in the southern part of the country.
However, they failed to rally other units and eventually aborted their advance towards Moscow after a deal was reached with the authorities.
The agreement, which includes an amnesty for Prigozhin, was brokered by Belarusian leader, Aleksandr Lukashenko.
You can share this story on social media: