Monument to 'Italian fascist invaders' stolen in Russia – media
A stone commemorating Italian volunteers killed during WW2 has vanished in southwestern Russia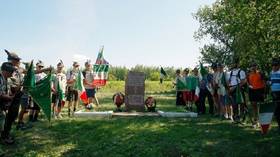 A monument commemorating Italian fascists killed during World War II has been stolen in Russia's Belgorod Region, according to local media reports. The commemorative stone, which was located near the village of Garbuzovo, was erected by relatives of slain Italian soldiers back in the 1990s.
The stone was popularly known as the 'Monument to Italian fascist invaders' among the locals, with activists urging its removal for years.
Images from the scene show only an overgrown pedestal remaining, with a hole in the ground marking the place where the stone was located. The monument was reportedly removed by unknown assailants, who used a bulldozer to take it away. Neither the local authorities nor law enforcement made any official comments on the incident.
The stone did not explicitly commemorate Italian fascists who were active on the Eastern Front between 1941 and 1943. The inscription merely read "To Italians who have perished in Russia."
However, the monument was a popular destination for veterans of the Italian alpine troops and their relatives. Visitors have frequently held ceremonies by the stone while sporting iconic Cappello Alpino hats, the most distinctive feature of the Italian mountain infantry, available publicly imagery shows.
Earlier this month, a similar monument was destroyed near another Belgorod Region village of Livenka. The monument, which bore the same inscription, was dragged out by heavy machinery, according to footage circulated by local media. It was not immediately clear whether the removal was sanctioned by the local authorities or whether unknown vandals acted on their own.
Multiple private monuments commemorating Italian fascists were erected in Russia after the collapse of the Soviet Union. Arguably the most notable one was unveiled back in 2003 in the town of Rossosh in Voronezh Region.
The monument, popularly known as 'The Hat' and 'The Tomb of the Unknown Fascist', depicted a Cappello Alpino morphed together with the Soviet Red Star. The site became a source of constant tensions between the local authorities and activists, who repeatedly demanded that the controversial monument be removed.
'The Hat' was one of the first monuments to be vandalized amid the ongoing conflict between Russia and Ukraine, in which Kiev is supported by Italy. In April 2022, it was overturned by unknown assailants, with the 'Z' Russian army symbol scribbled on it and the metal hat missing. No suspects behind the incident were identified.
You can share this story on social media: