Zelensky could fire defense minister – Ukrainian media
Aleksey Reznikov could be sent to the UK as ambassador, according to speculation in Kiev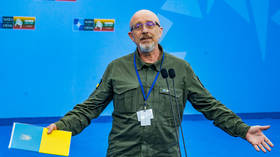 President Vladimir Zelensky is looking for candidates to replace Aleksey Reznikov as minister of defense, a leading Ukrainian daily reported on Thursday, citing sources in the Kiev government.
"The possibility of Reznikov's resignation has gone from theoretical to practical," Ukrainskaya Pravda said. The outlet added that there are at least two candidates for his replacement.
UP mentioned two candidates by name, the infrastructure minister, Aleksandr Kubrakov, and the strategic industries minister, Aleksandr Kamyshin. It was unclear if more candidates are in the running.
Reznikov is "not opposed to becoming ambassador to Great Britain," though it was unclear whether this option was actually being considered. The possibility was first brought up by MP Aleksey Goncharenko on August 1.
Zelensky had fired the previous envoy to London on July 21, after Vadim Pristayko publicly criticized the president's sarcastic tone towards Ukraine's Western suppliers of weapons and ammunition at the NATO summit in Vilnius.
Reznikov has painted himself as a key player in getting Western weapons for Kiev. In October 2022, he boasted to the US outlet Politico that he had figured out the Pentagon's political process, describing the trick as constantly raising the bar until the Americans give in.
Later that month, he described Ukraine as an ideal proving range for Western military equipment, expressing hope that Kiev would soon get main battle tanks and then fighter jets. The first tanks were promised in January, shortly after Reznikov declared Ukraine to be "carrying out NATO's mission," with the US-led bloc providing the weapons and Ukrainians providing the blood.
Later that month, however, Reznikov got into hot water when Ukrainian media published the scandalously inflated prices his ministry was paying for supplies. He claimed there was a "common technical error" at work, where eggs were logged at the "anomalous price" of 17 hryvnia ($0.46) apiece instead of by weight.
The first rumors of his replacement came in February, when the leader of the ruling party's bloc in the parliament, David Arakhamia, said that Reznikov would be rotated to the strategic industries portfolio and replaced with military intelligence chief Kirill Budanov. Reznikov reacted by saying it was the first time he had heard this and that he was unlikely to agree.
You can share this story on social media: