US threatens Central Asian country
Kyrgyzstan says claims of helping Russia evade sanctions are inappropriate external pressure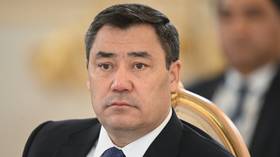 Kyrgyz President Sadyr Japarov has rejected insinuations by a top US senator that his country has engaged in "democratic backsliding" and helping Moscow evade the Western embargo.
"I see this as an excuse to put pressure on Kyrgyzstan and convert us to their side," Japarov told the Kyrgyz news agency Kabar on Wednesday. "But we will not allow this. We are an independent country. We will continue to have equal relations with all countries. We will pursue a multi-vector foreign policy."
Senator Bob Menendez, the New Jersey Democrat who chairs the Foreign Relations Committee of the US Senate, sent Japarov a letter on Tuesday, in which he claimed there were "serious allegations" that Kyrgyzstan was helping Russia evade "international sanctions" imposed over the "invasion" of Ukraine, and urging Bishkek to "immediately investigate."
Menendez accused Kyrgyzstan of either not enforcing or facilitating the trade in "drones, aircraft parts, weapon accessories, and circuitry" and said that this was "simply a symptom of its continued democratic backsliding and widespread human rights violations."
The senator insisted that the US remained "steadfast in our support of upholding the sovereignty and independence of nations like the Kyrgyz Republic" from Russian threat, and that undermining the anti-Russian sanctions "could put at risk the security and economic interests of the Kyrgyz people."
Kyrgyzstan is neutral on the conflict in Ukraine, Japarov told Kabar, addressing the US senator's letter. "Whether we change our position or not, the situation will not change in either direction," he added.
As for the alleged sanctions evasion, Japarov said that Kyrgyzstan has banned the exportation of drones, but that Russia doesn't need his country to get drones from China or anywhere else.
"These countries are neighbors, they have a 4,000-kilometer common border. If Russia wants, it can bring in any cargo by rail or by sea," the Kyrgyz president said.
While Kyrgyzstan has not officially joined the sanctions by the US and its allies against Russia, it has stepped up export controls after US, EU, and UK officials visited Bishkek in March to threaten penalties for "noncompliance."
In early June, 30 people were arrested following an attempted coup against Japarov. The former Soviet republic is a close ally of Russia, with membership in the Commonwealth of Independent States, the Eurasian Economic Union, the Collective Security Treaty Organization and the Shanghai Cooperation Organization.
You can share this story on social media: