US threatens neighbor of Russia
A senior Treasury official claims Kazakhstan is enabling "sanctions evasion"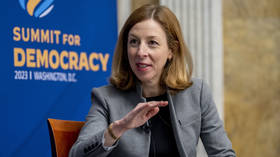 Kazakhstan may face consequences if it continues helping Russia evade Western sanctions, the US and UK envoys told reporters in Astana on Tuesday, demanding Moscow's ally in Central Asia comply with their embargo over the Ukraine conflict.
"The Kremlin has tasked its intelligence services with finding ways" to dodge the sanctions, by setting up shell companies or middlemen in third countries, Assistant Secretary of Treasury Elizabeth Rosenberg claimed at the press conference. If Kazakh companies participate in these schemes, this will expose them and the country to the risk of secondary sanctions, she added, according to EFE news agency.
The US and its allies have "launched a global push" to "crack down on sanctions evasion," according to Rozenberg, who was in Astana with Deputy Commerce Secretary Matthew Axelrod and UK Foreign Office representative David Reed.
According to the Western envoys, their governments are working with Kazakhstan to stop the delivery of goods and services to [President Vladimir] "Putin's war machine."
Kazakh companies "can keep their ties to the world's most important markets, or they can be active participants in the Russian war effort by facilitating, or turning a blind eye to, the provision of goods that make their way to the battlefield," Rosenberg said.
Axelrod insisted that the Western embargo has "disrupted Russia's military-industrial supply chains and weapons procurement," while Reed cited "open source trade information" to claim Kazakhstan is exporting goods sanctioned by the UK to Russia.
The US and its allies are pushing for a near-total ban on exports to Russia over its conflict with Ukraine. As few other countries have joined their embargo, the West has dispatched officials and pressure them into compliance under the threat of secondary sanctions. Meanwhile, Washington and its NATO allies have also sent Kiev over $100 billion worth of weapons, ammunition, and equipment – including tanks and fighter jets – over the past year.
You can share this story on social media: